Elon professor dismissed after sexual messages
Students and professors often have close mentoring relationships, and it's not uncommon to hear about professors giving out their phone numbers. But junior Amy DeNenno believes that messages from her Religious Studies professor, Hans Arneson, went too far.
Arneson was dismissed from the university this semester.
DeNenno said that at first she did not think much of it.
"I thought it was fine, 'cause I mean every professor I've had has given us their number," DeNenno said.
She was a student in Arneson's Introduction to the New Testament in the fall. After grabbing lunch following class, Arneson began to text DeNenno. According to DeNenno, the messages started out friendly and related to class assignments.
"He was just a really chill professor and was pretty lenient about things," DeNenno said.
But soon the texts turned inappropriate, talking about meeting outside of class and drinking alcohol, even though DeNenno is not 21.
"He's like, 'My boss would probably frown on me "loving beer" with a student,'" DeNeno read from a text message on her phone. "'Especially a confident blonde woman. I had fun."
DeNenno says that she responded to his text messages to be polite, but she was not sure of the appropriate way to handle the situation.
"I didn't know how to react because the way he was talking to me was the way that any guy in general that was flirting with me would talk to me," DeNenno said.
As the text messages continued, DeNenno says even going to class became uncomfortable.
"I would skip classes," DeNenno said. "I would make excuses why I didn't want to go. Just the thought of going to class would just make me cringe."
DeNenno shared the texts she received from Arneson, some of which were sexually graphic. One text read, "I wanted to duck into a room with you for a few mins when you left the room for a sec. Just five mins to taste your lips and tease a lil…"
Another text read, "Have you come over tonight instead of taking the final…"
But DeNenno wasn't the only student receiving texts. One student, who chose to remain anonymous, said she received a text from Arneson that said "You could have joined me in my daily after-class shot in my office!"
DeNenno said that once she informed university officials in February, they quickly took action. Looking back, she wishes she would have spoken up earlier.
"If I could change everything I probably would have told him that that drink did make me feel uncomfortable," DeNenno said. "I probably would have told him to just kind of chill out, stop talking to me like that. Yeah I think that there's just more regrets than anything."
We spoke to Arneson on the phone, but he declined to comment. We also reached out to the University, who told us that personnel matters are kept private.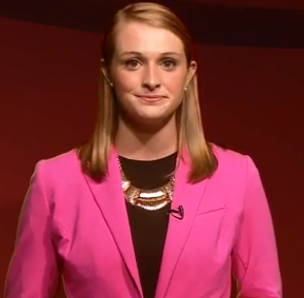 About the author:
Courtney Davis
Courtney Davis is a senior broadcast journalism major from Severna Park, Maryland. She has interned at WTTG-TV in Washington, D.C.