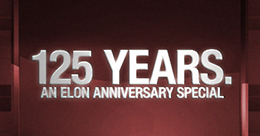 Learn more about the university's 125-year history. Watch full episode.
As Elon continues to celebrate its 125th ...
More Here
Ed Watkins, an automotive mechanic in Elon's Physical Plant department, died Friday evening in a boating accident at Farmer's Lake in ...
Full article
There is a dog roaming Elon University's campus, but she is not a stray. About two months ago, junior Aly Yarwood just got her ...
Full article
Students and faculty covered each other in paint outside Moseley on Friday, celebrating an Indian tradition. Holi, the Indian festival of color, celebrates the ...
Thousands of people followed Esther Earl's story online as she battled thyroid cancer, but for Elon freshman Alexa Lowey, her battle was even closer ...
The Elon University head men's soccer coach Darren Powell resigned Thursday afternoon to take on a coaching position with the Orlando ...
Full article
The Elon University men's basketball team has picked up its second commitment in the class ...
The Rich Skrosky era began Monday afternoon as players and coaches of the Elon football ...
Last week, members of the LGBTQIA community celebrated Pride Week at Elon University. ...
While Elon students are the ones commonly known for being over-involved, some Elon ...
Church Street in Burlington is no stranger to local businesses. New stores and restaurants seem to ...
A seat on the Alamance County School Board may soon be occupied by ...
While we might not be on the beach yet, spring break is only ...
In honor of St. Patrick's Day, here's how to make a nutritious and ...