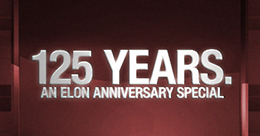 "125 Years. An Elon Anniversary Special" showcases Elon's rich history in sports, traditions, social culture and more. The special holds interviews from some of Elon's most insp
irational students, faculty, staff and community members, including the campus's first black graduate and all three living university presidents.
The Stories
Elon University may be considered a small school, but its history is rich. It began as a small college with only two buildings on campus and has now grown to include five schools, 620 acres and more than 5,500 undergraduate students. Here's a look at Elon's timeline. ...
Full article
Contributors
Jeff Ackermann, Executive Producer
Brian Mezerski, Production Manager
The Elon Timeline
Reporter: Carly Hildyard
Producer: Allison D'Amora
Graphics Edior: Chelsea Lindsay
The Tough Times
Reporter: Jason Puckett
Producer: Meredith Stutz
Photographer & Editor: Tyler Oberle
Diversity
Reporter: Nicole Chadwick
Producers: Jasmine Turner, Megan Foard
Photographer: Ja'Mei Bess
Editor: Jonathan Winston
Religion
Reporter: Gary Grumbach
Producer: Kelly Finneran
Photographer: Jonathan Winston
Editor: Madeleine Stokowski
Student Organizations
Reporter: Eric Halperin
Producer: Ryan Greene
Photographer: Ben Stringfellow
Editor: Sean Lauwers
Social Culture
Reporter: Katie Maraghy
Producer: Elizabeth Kantlehner
Photographer: Jon Smith
Editor: Jordan Johnston
Sports
Reporter: Justin Biegel
Producers: Rajat Agarwal, David Perell
Editor: Jordan Johnston
Elon Traditions
Reporter: Addie Haney
Producer: John Bowden
Photographer & Editor: Matthew Mintzer
Unsung Heroes
Reporter: Brennan McDavid
Producers: Sky Cowans, Corey Shegda
Photographer: Alex Rose
Editor: Madeleine Stokowski
Elon's Past & Future
Reporter: Joe Bruno
Producers: Lauren Cook
Photographer: Brian Binder, Brian Lorello, Matthew Mintzer
Editor: Brian Binder
SPECIAL THANKS
Linda Lashendock
Katie Nash
Photographs courtesy of Elon University Archives and Special Collections.