The Children of Ragtime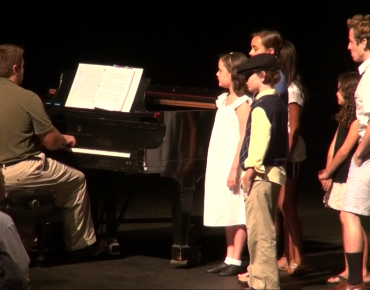 Elon's Center for the Arts welcomed a few guests this weekend, as auditions were held for the fall musical Ragtime.
Set in the 1920s, Elon's fall musical follows characters of three different ethnic groups as they try to make it in America. Among the many roles in the cast list are a little boy and little girl.
Nine-year-old McLaurin Hull talked about how it felt to audition for a college production.
"It was a little scary because they were really good," Hull said.
Hull's mother Emily, was also at the audition, cheering her on. Emily Hull says she enjoys the perks of being a theater mom.
"It's so much fun, because I'm not a theater person, but it's so fun to experience through her and she's really enjoying it and having a lot of fun with it," she said.
Also auditioning for the role of the little girl was Elon sophomore Jessica Riloff, who is  four feet ten inches tall. For Riloff, working with younger children was a learning experience.
"They have this innocence that I think someone like me, it's hard for me to portray that on the stage and it just comes very naturally for them, so it was very impressive seeing them up on the stage," Riloff said.
The cast was recently announced and both Hull and Riloff will be in Ragtime this fall. Hull will be playing the little girl, with Riloff as her understudy.