State Fair comes to town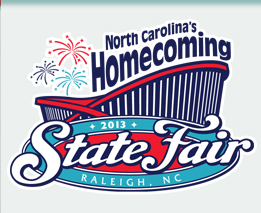 Step right up, step right up - to the North Carolina State Fair.
The annual event has changed since it first opened in 1853, but the atmosphere hasn't. Smells of popcorn, cotton candy and fried foods waft through the air as fair-goers wander around.
People of all ages can win prizes, eat deep-fried foods and brave carnival rides with stomach-turning drops and turns at this year's Homecoming-themed fair.
Fair-goers can also test their luck in a variety of carnival games like basketball, ring-toss and balloon darts to win a prize from as big as an over-sized stuffed animal to a little goldfish. But be prepared to spend a lot here – the games prove harder than they look.
The fair is open until Sunday Oct. 27 and closes for the season at 11 p.m. It is open until 11 p.m. from Oct. 21 through the 23, and until midnight on Oct. 24 through the 26.
But preparations for next year's fair are already in the works and the date has been set: The North Carolina State Fair will be back in Raleigh from Oct. 16 to the 26 in 2014.