Take a Haunted Hayride in Gibsonville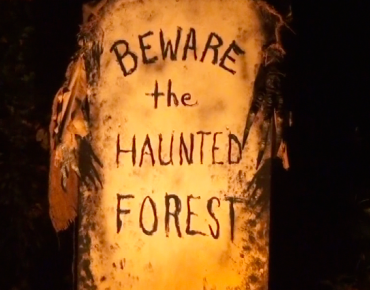 J. Razz and Tazz Farm is a typical farm during the day, but at night, the farm transforms into a haunted forest hayride. Located in Gibsonville, N.C., owner Trey Early started the hayride seven years ago to make some extra money for the farm.
J. Razz and Tazz farms is located at 466 Peeden Drive in Gibsonville, N.C. The Haunted Forest Hayride runs Fridays and Saturdays with rides continuing through to November.
"We had some years where there have been terrible droughts here, and if it weren't for J. Razz, we would go out of business," Early said.
The Haunted Forest Hayride doesn't have the blood, guts, and violence typically associated with hayrides.
"We found out that there really wasn't anything offered suitable to take a 10-year-old child to for Halloween in this type of activity," Early said.
Early built 95 percent of the props himself. He has never been on the trail because he's the only one who knows how to operate all the equipment.
Although, his wife Erin Early, and members of the community, dress up as monsters to bring the hayride to life.
"The rest of the day we are alone, we don't see a lot of people," Erin Early said. "So this is our social interaction for the year. I can't talk much to a tractor. We get to see people have a good time."