Elon community gathers for forum on healthcare reform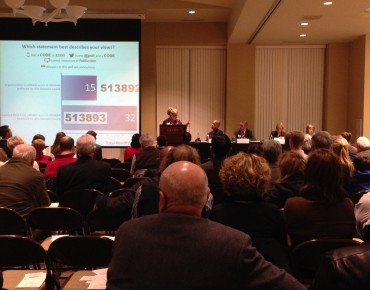 Parking was limited Monday evening as more than 250 people, many of whom ended up standing in the back, packed McKinnon Hall for a community a discussion on healthcare reform. The room was split between Elon students and community residents, and all were there to discuss a complicated and highly contested issue.
The discussion was informative and composed. Both sides were presented, and even more importantly, presented civilly.
The forum consisted of two panels. The first was of community members, including University Physician Dr. Ginette Archinal, Connie Bishop, a nurse at Piedmont Health Services, Vice President of Burlington Metal Works, Jeremy Troxler and Community Advocate Suellyn Dalton. Kendall Crouther, Miles Grunvald, Maria Restuccio, Marissa Rurka and Kaitlin Stober, all Elon students, also presented at the forum.
Invited panelists, the second panel, took questions from the audience. It included President and COO of Alamance Regional Medical Center, Preston Hammock, Senior Lecturer of Health and Human Performance, Resa Walch and Susan Osborne, the director of the Alamance County Department of Social Services.
All speakers had time to voice their opinions and Archinal, who has practiced medicine in three different countries, said the United States has a moral responsibility to provide healthcare to everyone.
"Having provided and received health care services in three countries of the Western World, the one thing I know for certain about the provision of health care is that there is no one perfect system," Archinal said. "I regard health care as a right and not a privilege."
But not everyone agreed with Dr. Archinal.
"To say that a healthcare system is truly privatized we must be okay with citizens being denied healthcare because of their inability to pay, even if this means death," said Maria Restuccio, a member of the class of 2015.
Others thought it healthcare could be fixed by working together.
"To fix this, we have to keep people out of the hospital," President of Alamance Regional Medical Center, Preston Hammock said. "Healthcare, social, religious and government entities must partner. Every partnership started with discussion and I think that's what's exciting about where we are heading with healthcare."
But even with diverse views, one panelist said that the U.S. will eventually find a solution for the healthcare system.
"The implementation is going to have some bumps in the road but we can figure it out," said Resa Walch. "Ten-years from now, I believe I will be teaching that we got it right."