'Twist-or-Treat' event teaches lessons in and out of class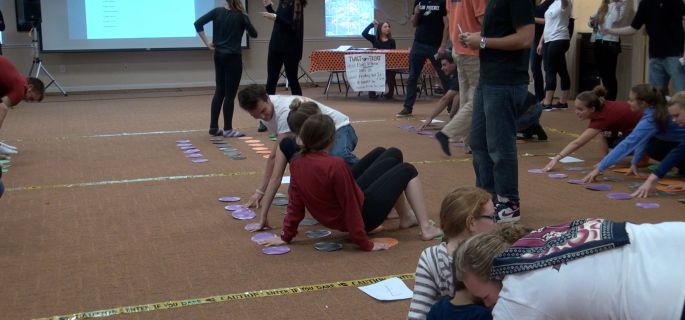 On Friday a group of Elon students hosted a Halloween-themed Twister tournament called "Twist-or-Treat," which raised money to benefit the Positive Attitude Youth Center, an organization that gives local youths a safe and supportive place to stay after school.
Students signed up with teams and competed against each other in large games of Twister, some even dressed in costumes.
The event was a project for a Programming and Event Management class, which takes a unique approach to learning. In the class, students work in groups throughout the semester to put on an event of their choice, doing everything from marketing to getting sponsors.
Twist-or-Treat was sponsored by a number of local businesses, including Dunkin Doughnuts and Krispy Kreme Doughnuts.
But Margaret Curran, one of the event's student organizers said putting on this even taught her much more than just marketing skills.
"I think this class kind of brought us together," Curran said. "[The class] was trying to teach us something but it also, as Elon does every day, tries to make us aware of our environment and of our community."
The students are planning on buying PAYC board games with the money they raised.