Wheel of Fortune Auditions Coming to Burlington
Ever want to buy a vowel? Now's your chance.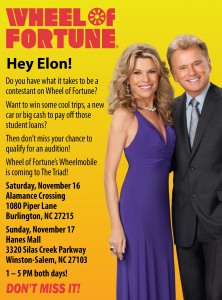 The Wheel of Fortune's Wheelmobile is coming to Burlington on Saturday, November 16,  and people will have the opportunity to audition for the popular game show.
Fans can fill out an application, and if their name is drawn at random, they will have the opportunity to play a simulated version of Wheel of Fortune onstage for the chance to win prizes and be evaluated as a potential contestant for the broadcast version of the show.
Auditions will be at Alamance Crossing from 1-5 p.m between Kohl's and Dillard's.
Staff members from the Wheel of Fortune promotions team will be handing out applications one hour before each show begins. Searches will be held at 1, 2:30 and 4 p.m.
According to the press release, majority of contests who appear on Wheel of Fortune come to Wheelmobile events in their hometowns.
Auditions will also be held at the Hanes Mall in Winston-Salem on Sunday, November 17, from 1-5 p.m.