Winter term time limit challenges, excites 'Much Ado About Nothing' cast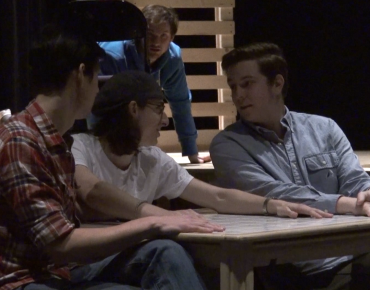 Correction: This article previously stated in error that the show opens on Jan. 24 and its first weekend closes on Jan. 28. The show opens Jan. 23 and its first weekend closes on Jan. 27.
While most students are walking to class everyday, students in Elon's production of Much Ado About Nothing are walking to all day rehearsals.
Instead of going to a standard classroom, these students report to the Black Box Theatre to work with director Kevin Otos. The actors rehearse all morning and afternoon while the crew comes in later to design and build the set.
Much Ado About Nothing is a Shakespearean comedy. Putting on this show will be difficult because of the time constraints of the three-week Winter Term. Actors have to learn their lines and do their research more quickly than they normally would when they have a few months to prepare.
The students involved love being in the show because it incorporates their passion and friendships into a production.
"The people are so much fun to work with and be with on and off stage that it makes it a joy from the time I come in to the time that I go home," said Jared Allen, a senior BFA acting major who plays Don Pedro in the production.
The show opens on Thursday, Jan. 23 at 7:30 p.m. in the Black Box Theatre. Its first weekend runs Jan. 24 at 7:30 p.m.,  Jan. 26 at at 2:00 p.m. and 7:30 p.m., Jan. 27 and 28 at 7:30 p.m. The second weekend's shows are Feb. 5, 6, and 7 at 7:30 p.m. and Feb. 8 at 2:00 p.m. and 7:30 p.m. Tickets are $12.00 or free with a valid Elon ID.