Zumbathon garners higher energy, greater turnout in 2014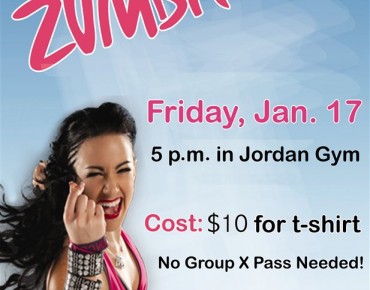 Students clapped, danced and wobbled their way through Zumbathon Jan. 17 in Jordan Gym.
Zumba group exercise instructors led the two-hour event, which attracted lively participants.
"We had a really good turnout," said Emily Armstrong, team leader of Group Exercise. "We had a lot of people sign up in advance and a lot of people come the day of and high energy this year. That's really what we're looking for is just the high energy."
This year, funds raised from the $5 admission price ($10 for a t-shirt) benefitted Campus Rec, but according to Armstrong, event coordinators are in talks to have proceeds benefit a charity next year.
First-year students David Taylor and Marissa Costner thought the $5 cost for Zumbathon was well-worth it.
"I do Zumba each week … and I love doing it, I love dancing," Costner said. "I thought it would be a fun thing to do."
Taylor partook particularly for his love of his dance moves.
"I wanted to show off my dance moves because I am probably one of the best here," he said.