Travel concerns create roadblock for Periclean service trip to Honduras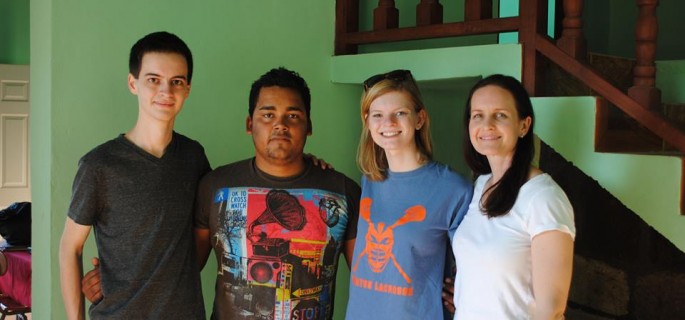 Since 2010, there have been more murders in Honduras than anywhere else in the world, which is why Elon had some reservations when the Periclean class of 2016 proposed a trip there this January.
Elon does not sponsor travel to areas with travel warnings, and the U.S. State Department renewed their travel advisory for Honduras in December.
However, the Periclean Scholars, did not take no for an answer, and after agreeing to a great number of safety precautions, two students, Meredith Berk and Christian Gilbert, and their advisor, April Post, were able to go. These precautions included a special forces trained armed guard to follow them around, a gated compound for them to sleep in and rules preventing the students from traveling alone. These precautions may seem extreme, but Gilbert said they were necessary.
"I think that the security risks in Honduras are real," Gilbert said. "There is a lot of gang violence. There is a lot of poverty, more importantly, and when there is poverty and there are weapons there will be violence."
While in Honduras, the Pericleans worked with Karen Godt, the director of one of their partner organizations in Honduras, Hope for Honduran Children.
Sophomore Periclean Scholar, Meredith Berk said this was the reason the trip was essential.
"By actually going to Honduras we were able to get a feel for Karen's organization, Hope for Honduran Children that we just simply couldn't have had without getting kind of boots on the ground," Berk said.
Though the Pericleans were able to make it to Honduras, other Elon groups were left behind. Due to the safety concerns in the area, the Global Education Center cancelled what used to be an annual Alternative Spring Break Trip to Honduras. Instead, the university is offering a similar trip to Guatemala.
The Kernoodle Center's Assistant Director for Student Programming, Evan Small, said students need to be in safe conditions before they can help out these communities in need.
"We're able to say that's not where we need to be right now," Small said. "They need to get themselves in order before they can accept our groups."
Gilbert said that the semester of research that the Pericleans did before the trip was an important part of assuring their safety.
"Knowledge is power and when you have more knowledge about an area you are better equipped to determine if a certain area you're going to is going to be dangerous or not," Gilbert said.
Despite the possible dangers of doing service abroad, Berk believes it is still important.
"Our director talks a lot about how your humanity is intertwined with everyone else's humanity and I really believe that," she said. "Just because somebody is across an ocean doesn't mean that they're any less human or any less deserving of opportunities than others."