Former modeling troupe member directs on campus fashion show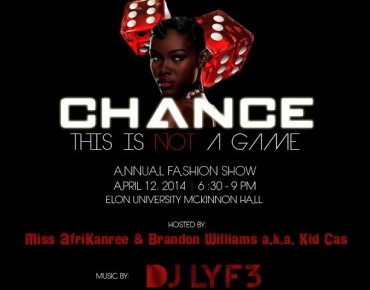 From the performance modeling on stage to the themed after-party, sophomore Alex Bohannon is determined to make the Black Cultural Society's fashion show one for the books.
Bohannon serves as the special events coordinator for the Black Cultural Society and is this year's fashion show director.  As a former member of a modeling troupe, Bohannon uses his experience to form the fashion show.
"A modeling troupe essentially is a group of students that do what's called performance modeling," Bohannon said. "It's a combination between a play and a fashion show."
The theme for this year's show is Chance: This is NOT a Game.
"I would say think of board games and think of Jumanji and then think of those two and how they would work together," Bohannon said.
All proceeds from this event go to a student run charity, HOPE, which stands for Helping Other People Eat.
"I definitely jumped at the opportunity to give to his charity because it helps people within the Burlington community and Alamance County," he said.
This event also includes a themed after party sponsored by the Black Cultural Society and the National Panhellenic Council.  The theme for this party is The Millennial.
"As everyone knows we are in the millennial generation and that is kind of where the theme or concept comes in for that party," Bohannon said. " All of the music that gets played is going to be music that was popular during our time."
The fashion show will be held in McKinnon at 6:00pm on April 12.  The after party will take place at Taphouse at 11:00 p.m. Tickets are $3 per event or $5 for a combo ticket.
Bohannon hopes there will be a high turnout at the series of events.
"You need to be there.  Be there or be square or any of the other shapes that aren't cool because all the cool people are going to be there," Bohannon said.