Elon senior's next stage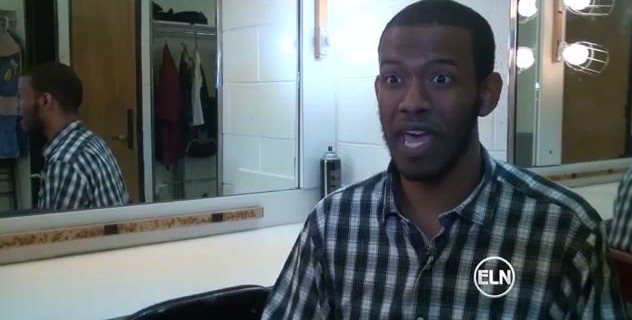 With merely days left until seniors walk across the graduation stage, one senior prepares to take on a different kind of stage.
Musical theater major, Patrick Clanton, was the father from "Children of Eden," Hud from "Hair" and Coalhouse Walker from "Ragtime."
The senior from Raleigh landed his first musical role at age 10.
"From that point on I was just pretty much a musical theater nerd," Clanton said.
Clanton joined Elon's Musical Theater Program in 2010 and has left a lasting impression both on and off stage.
"Patrick is always smiling," said senior dance major College Dong. "He's always working hard in class."
Clanton's mentor and professor, Lynne Formato, said, "Patrick was also my teaching assistant for my music theater literature class and was a wonderful mentor to the undergraduates."
Clanton knew finding a theater job out of college would be tough. But that didn't stop him from auditioning for shows like "Sister Act-the Musical."
"I've seen it once on Broadway." Clanton said. "I sat there afterwards and just thought, 'This is the kind of show I want to do.'"
He began the audition process for "Sister Act" less than a month ago. And on May 6, he got the magic call.
"I couldn't even speak." Clanton said, "I was just so happy."
He's been cast as a member of the ensemble and has two understudy roles for the second national touring circuit of the show.
"It really does feel good to say like I have a plan," Clanton said. "At least for the next year, I will be a working actor."
While he hopes to one day make Broadway his home, Clanton is keeping an open mind.
"If you're doing what you love to do, even if it's in the middle of nowhere, you can make a full, happy life for yourself."
He looks forward to the future and is grateful for all the support he's received.
"I just hope I can keep making people proud," Clanton said, "[and] keep making my parents proud and my hometown."
Canton's national tour of "Sister Act" will open in Delaware in October.