Vital Signs: The founder's final concert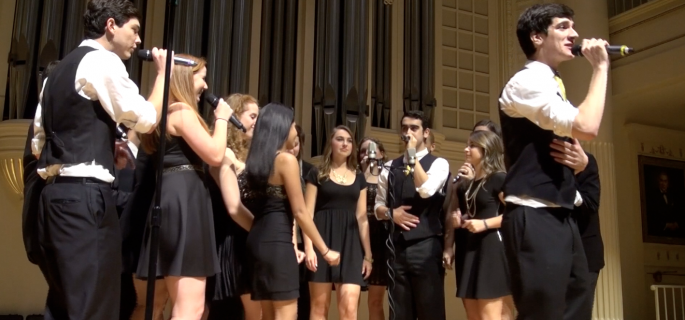 As the school year winds down and students prepare for graduation, many students are saying goodbye to their Elon experiences.
One of these students is Alexis Stones, who founded the Elon a cappella group, Vital Signs, in the spring of her first year along with her friend Ottavia Pomazon.
Pomazon and Stones missed the opportunity to audition for a cappella groups in the fall due to a leadership fellows trip, so they had the idea to create their own.
Three years later, Pomazon and Stones, along with six other seniors, were singing their final concert with Vital Signs.
"It's crazy to see it how far it's come," Stones said.
In their spring concert Friday evening May 9, the seniors of Vital Signs performed with the group one last time, and the group released their first EP. During the performance, the group highlighted their senior members, noted the group's short history, and for one number, invited Vital Signs alumni to return and perform with the group.
Although many members of Vital Signs are graduating, Stones believes Vital Signs will continue to grow and improve.
"It might be a little bit tough next year with eight seniors graduating, but I think they're still going to be awesome," Stones said.
"There are still so many dedicated [and] really talented people in the group. They're gonna do great things."
During the concert, the group also announced that they've been invited to perform at Carnegie Hall next spring with a cappella groups around the world. They will be preparing all of next year for this opportunity.