Dr. Maya Angelou: "A Voice for Justice, Equality and Love"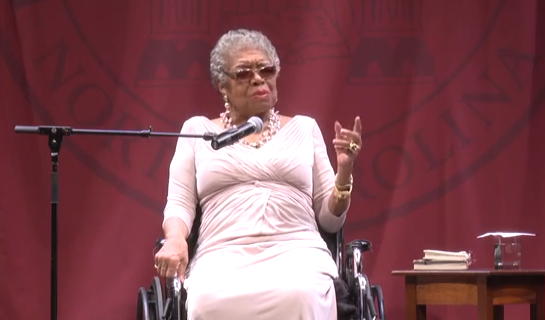 "Life is a constant choice. Will you choose to reach out or draw in? Will you choose to speak out or shut up?" President Bill Clinton reflected upon Dr. Maya Angelou this morning at the poet's memorial service held at Wake Forest University in Winston-Salem, North Carolina.
The "I Know Why the Caged Bird Sings" author died in her home Wednesday May 28.
Many famous guests such as President Clinton, First Lady Michelle Obama and TV star Oprah Winfrey attended.
"Dr. Angelou's words sustained me on every step of my journey," said First Lady Obama.
Oprah Winfrey spoke about how much Maya Angelou was a mother to her.
When Winfrey was starting out as a reporter, she begged Dr. Angelou for 5 minutes of her time for a quick interview. Winfrey told Saturday's audience that after just 4 minutes and 58 seconds of talking to Dr. Angelou she felt like a new woman.
Dr. Angelou's memorial service was titled, "A Celebration of Rising Joy." Her son and grandson also spoke about how much she lived and breathed for a life of peace and happiness.
Dr. Serenus Churn, Dr. Angelou's pastor, discussed her love of life, faith, learning, teaching and giving.
"She was a giver. She gave to the poor. She gave to the old. She gave to the young. She gave to whoever needed it. She even gave wisdom," said Dr. Churn.
Growing up, she dealt with parental tensions. She and her brother moved from her birthplace of St. Louis, Missouri to Stamps, Arkansas to live with her grandmother.
When Dr. Angelou was eight years old she was raped by her mother's boyfriend. Shortly after the incident she told her brother who alerted police and her abuser was sent to prison for 4 days. Shortly after his release he was murdered by one of her uncles.
After the incident, Angelou refused to speak until she was 13.
At the age of 14 she, her brother and mother moved again to Oakland, California. She became the first female African American streetcar conductor in San Francisco.
A few weeks after she graduated from the California Labor School she gave birth to a baby boy whom she named Clyde. (He later changed his name to Guy.)
It was during these early years of her life that inspired her to write her famous work, "I Know Why the Caged Bird Sings."
Along with writing poetry, books, plays and songs, she was also in an off-broadway production, befriended Malcolm X and Dr. Martin Luther King Jr., was nominated for a Tony Award and won the Presidential Medal of Freedom from President Obama in 2010.
Since 1982 she taught American studies at Wake Forest University.
In the fall of 2012 Dr. Angelou was Elon University's Fall Convocation speaker. She inspired students to seek opportunity within their college education. And once more wanted others to "have an attitude of gratitude."
"We have the possibility, the privilege of being rainbows in somebody's cloud," Dr. Angelou said at Elon's Convocation.
It is not yet known where Angelou is being buried.