Elon's Class of 2018 makes their presence known through social media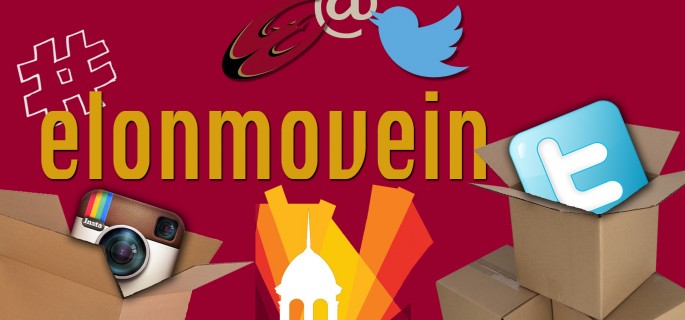 They came, they saw, they tweeted. The Twitter hashtag, #elonmovein, was blowing up Twitter feeds, news feeds and Instagram feeds throughout this past weekend. You name it, students posted it.
Websites such as Hashtagger and Twitter binder have shown the impact the Class of 2018 made online.
Twitter pushed out 762 #elonmovein tweets. Reaching more than 31,000 users. The hashtag had an impact score of almost 1.5 million. An impact score is the potential number of times anyone could have seen the hashtag.
A total of 93 percent of tweets came from within the United States. Additionally, 4 percent were sent from great britain and the Netherlands. Those posts could be from the 96 international students in the Class of 2018. They're here representing more than 20 countries.
The Twitter-sphere had a solid 60 to 40 female to male ratio, which is almost exactly the same as the incoming class's ratio of 61 percent female and 39 percent male.
The 'most retweeted' award goes to the university's account with a classic Leo Lambert quote from convocation: "You have arrived at a great banquet. For god's sake, don't make yourself a bologna sandwich," @headphoenix says. #elonmovein #elon #elon18."
That tweet raked in 28 retweets.
The most favorited tweet goes to this @onlyatelon tweet, "overheard during #elonmovein : "i need to buy a lanyard." #noyoudont." The tweet received a total of 51 favorites.
Elon Local News was ranked as the second most influential account just behind the university's official account.
There's more to like about the Class of 2018 than their Twitter accounts. They're coming in with an average SAT score of 1834 and an average ACT of 27. They're the cream of the 10,441 applicant crop.
Convocation welcomed about 1450 students, which is pretty impressive considering the first elon enrollment was just 76 students in 1890.