A chocolate fairytale in Gibsonville, N.C.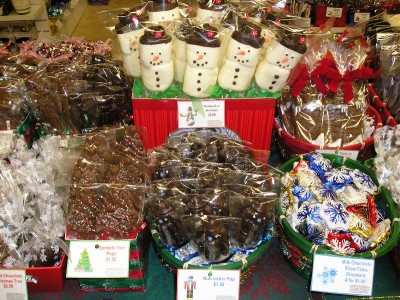 Debbie Stephens has been a chocolatier for 22 years and owns and operates her own store, Once Upon A Chocolate in Gibsonville, N.C. The store is just minutes from campus and offers customers hundreds of unique chocolates for every taste.
Stephens makes all of her chocolates by herself, sometimes filling orders for hundreds of chocolates at a time. She serves customers around the country and the world through her website, www.onceuponachocolate.com. Stephen's has made chocolate replicas of hotels for big name chains like the Embassy Suites and has even shipped her treats to big hollywood parties.
Despite her success and national recognition, Stephen's loves being part of a small community.
"I like the feeling of community and were enjoying it. The customers seem to appreciate that were still here. I think sometimes people are surprised when someone makes it," Stephens said.
Stephens began her career working for a large home improvement company but had a change of heart and wanted to follow a dream for a more creative career. Stephens wanted a career with more flexibility and she got just that when she opened her own chocolate shop in Florida. At this shop she hone in on her skills and made her dream into a reality.
After 18 years in Florida, Stephens sold her shop and moved to Burlington, N.C. After living a month in North Carolina, she missed the chocolate business and decided to open another store. Stephens said she and her husband were driving through the town's streets.
"We saw that they were working and we had seen the building before. So we peeped in the windows and then went next store and asked the owner of Pete's if he knew if it was for sale and we signed the lease that day," she said.
Since the move, Stephens feels like a part of the community and is enjoying connecting with the townspeople.
"We've been here a little over four years, in this location, and the community has decided we're gonna stay," she said.
Stephens will be selling her chocolates this Friday, Nov. 21 at 6 p.m., alongside other local vendor at the Gibsonville Lighting Of The Green.