Elon organization collaborates with national composer for fall concert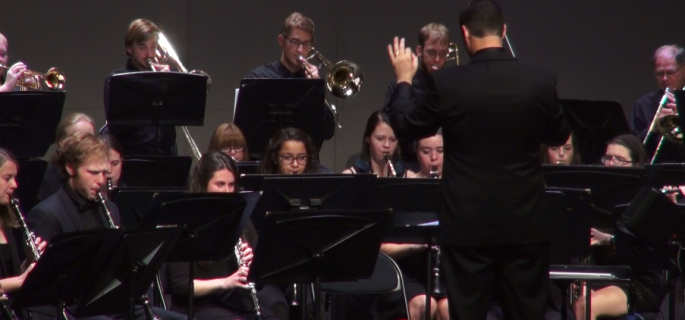 November 2013 was the first time Adam Kehl set foot on Elon's campus.
"I was finishing my doctorate at the University of South Carolina and was looking for a collegiate teaching position, and this job posting came across the wires and really intrigued me," Kehl said.
One year later, this Sunday marked Kehl's inaugural performance, as Elon's new Director of Bands, with Elon's wind ensemble, Phoenix Winds. Phoenix Winds held their annual fall concert in McCrary Theater on Nov. 16 at 7:30 p.m. The concert featured compositions from several composers, including Vincent Persichetti, Daniel Bukvich, Carter Pann and a commissioned work by composer David Clay Mettens, titled "Kinetic Dance, for two scrap metal birds".
Phoenix Winds brings students and local musicians together to perform music from a variety of styles within the band music genre. The members vary widely in age and location; one member travels from Virginia on a daily basis. The group rehearses once a week and does not hold auditions, though they do request that those interested have previous experience playing wind instruments.
Elon junior and clarinet player for the ensemble Lindsay Luhn joined Phoenix Winds as a first-year student interested in exploring her passion. Luhn is also part of The Fire of the Carolinas, Elon's marching band. For Luhn, its working with local professionals that sets Phoenix Winds apart.
"It's always just so wonderful to get to know people off of Elon's campus who are professionals in the area and just have a different outlook on life," Luhn said.
Mettens and Kehl share the University of South Carolina as their alma matter, part of the reason why Kehl chose to commission Mettens.
"We knew we wanted to commission a work," Kehl said. "It's something that every band program tries to do as much as possible. Any time you can participate in the creation of new art, thats a really important thing to do. It's also a fascinating process."
Mettens completed his undergraduate studies at the University of South Carolina in Composition and Clarinet. The 24-year-old composer is currently pursuing his Master's in Composition at the Eastman School of Music in New York.
Mettens began composing music in high school when he realized he could use music as a mode of communication.
"I realized I had a talent for writing music and wanted to use that to kind of share the way I view the world with other people and try to find people who see the world similarly," he said.
This concert's commissioned piece, "Kinteic Dance for two scrap metal birds" was inspired by a recent trip to New York City where he visited the Cathedral of St. John the Divine in the spring. The cathedral was home to an art installation by chinese artist Xu Bing, featuring two birds constructed from scrap materials collected from construction sites in Beijing.
"They're six tons each and almost a hundred feet long, and since I was writing a piece for the Elon wind ensemble and Elon's mascot is the Phoenix, I thought, what a perfect inspiration for piece" Mettens said.
Mettens introduced the piece at the performance Sunday night and even visited Elon on Friday to work with the band for over an hour on the piece, an experience Kehl believes his students will never forget.
"Working with a composer is great because they sit and they play the music all the time but it can be just sort of notes on a page," Kehl said. "But when they get to interact directly with the person who wrote and get his inspiration, every other piece you play will now forever be different."
"Music education, and really, by music, arts education, is incredibly valuable, and it creates sensitive, well-rounded people," Kehl said.
"I think music is really about people," Mettens said. "The fact that my music was meaningful for audience members or performers is really the most valuable part for me."