Burlington marches to commemorate Civil Rights movement
Dr. Martin Luther King Jr. and other civil rights activists led 50-mile-long marches throughout Alabama and Washington, D.C., and Alamance County's chapter of the NAACP led a two-mile march on Monday to continue their same cause.
Two hundred Alamance County residents gathered together in downtown Burlington for the march, which began at Occasions Restaurant and ended at North Park's Mayco Bigelow Community Center.
Alamance County NAACP President, Barrett Brown, discussed the four main pillars of social injustice that affect Alamance County.
The four he mentioned were voting, Medicaid, law enforcement and education.
Voting rights
With voting rights, Brown believes the practice of voter ID laws is inherently discriminatory, and that it undoes whatever leaps forward American society has already achieved with voting legislation.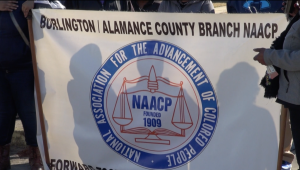 "We [the NAACP] have the opinion that that [requiring a voter ID] would be a poll tax," said Brown. "[Paying] for an ID is an indirect poll tax."
Health Care

Brown then referenced Medicaid as the second issue promoting inequality, which is also a program that Gov. Pat McCrory has not supported.
He considered both voter ID laws and Medicaid restrictions as "burdens" on the disabled and elderly.
Law enforcement
However, he said that the NAACP has had very open dialogue with the Alamance County Police Department.
"I'm very encouraged by the law enforcement here," said Brown.
He wants to make sure that Alamance County law enforcement is proactive rather than reactive.
Education
Additionally, with education, he says that while private and charter schools are able to pick and choose their students, public schools must take whoever attends.
Low paid teachers and minimal textbooks are major issues public schools encounter daily.
"In North Carolina, education is a right," said Brown. "It's not [just] a privilege."
He said that in the past 50 years, America has evolved in accepting and promoting equal opportunities.
"We have come a really long way," said Brown. "But we are a long way from the goal, [and] still a good way from the dream."
Sharing a dream
Burlington resident, Wanda Johnson, also shares Brown's dream for equality and freedom for all.
She has been participating in the march for five years.
"The reason I'm here today is to make a difference in the lives of all people in the Civil Rights Movement," said Johnson. "It really means that we all should be in unity and harmony with one another."
She's noticed the growth in the past five years as well. According to march coordinator, Harold Johnson, the march began with about 20 people when it started about 20 years ago.
But regardless of how many people march, the question of whether all Americans will want equality is still in the air.
"People need to be made aware of social justice," said Brown. "That's one of the things we're [trying] to highlight."