Day of Service brings students and community together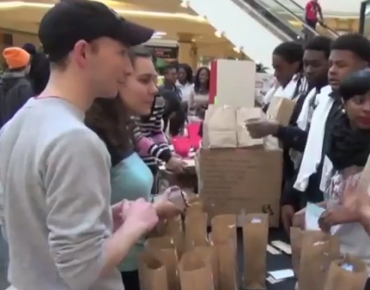 More than 60 Elon students went to the Four Seasons Mall in Greensboro for the annual Martin Luther King Jr. Day of Service gathering.
Elon students were accompanied by hundreds of other teens and adults who participated. Some of the activities included making blankets and packing snack bags for the needy.
Participants also wrote friendly Valentine's letters to emergency care employees.
Carley Swaim, executive director of the Volunteer Center of Greensboro, said that all were welcome to participate.
"Anybody can be great because everybody can serve," said Swaim. "That's really what his dream was about."
Swaim also expressed her gratitude concerning the different people that showed up to support.
"To see people of all races, ages [and] everything come together around service is just incredible," Swaim said.
Many participants were laughing together and enjoying themselves while helping out. It was nothing short of one big celebration of service.
This was the eighth consecutive year the Four Seasons mall has hosted the event, and according to Swaim, this year was their largest turnout.
"Everybody's coming together, just working together," said volunteer Deborah Womack. "We're having a great big party."
Womack also noted that she wants others to know that the event should be followed by many more days dedicated to helping others.
"It's not just not having it for one day," said Womack. "We should be helping people everyday."