Elon defense falters in loss to James Madison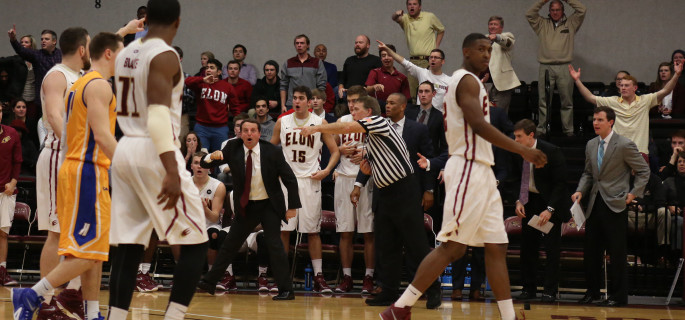 Heading into a 86-75 loss to James Madison on Saturday night, Elon senior Austin Hamilton told his teammates to keep their heads held high, and that they would make it through the rough patches. But those rough patches have been frequent, as the loss marks Elon's sixth straight, and its 10th in its last eleven.
"It's a difficult pill to swallow," Elon head coach Matt Matheny said. "We scored and our offense was efficient. I think we played well offensively because we're getting better and we're getting more comfortable. But we didn't defend well enough to win."
James Madison, led by guard Ron Curry's 25 points, was unstoppable on offense, shooting 28-of-46 (60.9 percent) from the field, including 14-of-18 (77.8 percent) in the second half.
"When a team shoots 60 percent, you're not going to win many games.," Elon guard Austin Hamilton said. "It came down to stops and we couldn't get the ones we needed."
"It seemed like they made every shot," Matheny said. "It's an uncomfortable feeling when we're not defending well enough to stop them and we're changing defenses and they're still making shots."
A bright spot for the Phoenix was the play of freshman backcourt duo Dmitri Thompson and Elijah Bryant. Bryant scored a team-high 18 points on 6-of-10 shooting and dished out six assists while. Thompson had arguably his best game at Elon, scoring 14 points on 6-of-8 shooting, his highest scoring output against a Division I opponent (he had 18 against USCAA school Central Penn in December). He was also in the fray for seemingly every loose ball and rebound.
Austin Hamilton and Kevin Blake rounded out Elon's scorers in double-figures with 16 and 10 points apiece.
The Phoenix looks to end its skid on