Elon Goes Undefeated on Opening Weekend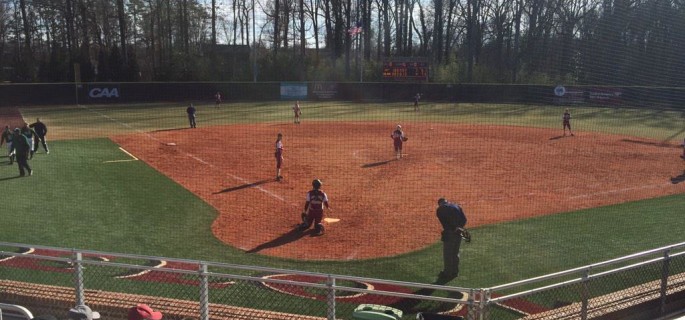 The Elon Women's Softball team kicked off the 2015 season going undefeated at Hunt Softball Park on Saturday, Feb. 7 and Sunday, Feb. 8
The Phoenix got off to a rocky start in game 1 against USC Upstate, giving up a solo home run in the top of the first inning. But Elon responded with three runs in the bottom of the inning . In the fifth inning, Hannah Olsen scored after a two out single by Emily Ropper to put Elon ahead. The Phoenix went on to defeat USC Upstate 4-3.
Game two on Saturday featured Elon and Radford. The game couldn't be decided in regulation and the game went into extra innings. In the bottom of the eight inning, freshman Kara Shutt hit a single to left field bringing in the winning run for the Phoenix. Elon defeated Radford 6-5
On Sunday, Elon faced Radford once again winning 6-1. The Phoenix had an early lead after two runs by Alaina Hall and Emily Cameron in the first. After a Radford run in the second, Elon rebounded in the bottom of the third with another run by Olsen. The Phoenix scored three more runs in the fourth inning from Aly Quintana, Sarah Little, and Alaina Hall to put away the Highlanders.
"I think we have a great group," said Head Coach Kathy Bocock. "We have a great thing going on with these guys right now and we want to keep moving forward."
Up next: Elon will travel to Athens, Ga. on Friday to play Troy in the Georgia Softball Classic at the University of Georgia. First pitch at 10 a.m.