Elon tennis scores first win of the season against Campbell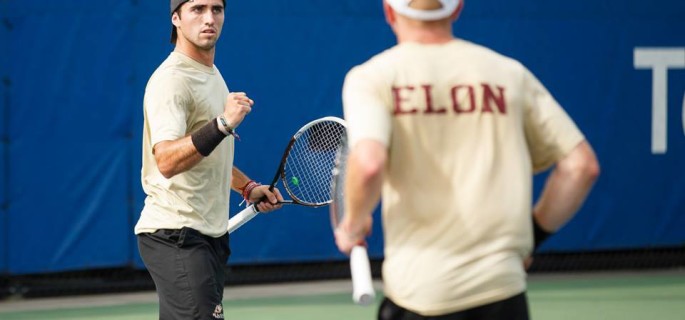 Elon Men's Tennis earned its first win of the season at home on Wednesday, Feb. 11 against Campbell University. With the 5-2 victory over the Camels, the Phoenix improve its record to 1-6.
Seniors Jordan Kaufman and Brian Kowalski both won their courts handily in two sets. Sophomore Chris Humphreys pulled out a victory in a third set tiebreaker, against Campbell's Lorenz Schwab. And securing the win for the Phoenix was senior Stefan Fortmann with a 3-6, 6-2, 6-0 win at the number one position against Steven Billington.
The Phoenix began the match with a 1-0 lead after doubles thanks to the two wins from No. 1 seed Fortmann and Kowalski (8-5) and No. 2 seed Kaufman and Juan Madrid (8-4).
The team will be back on court at home Saturday, Feb. 14 for a doubleheader against North Carolina A&T and Presbyterian College. Play will begin at 10:00 a.m. as the team faces the Aggies, followed by a 1:30 p.m. matchup against Presbyterian.