Elon tops Charleston in final seconds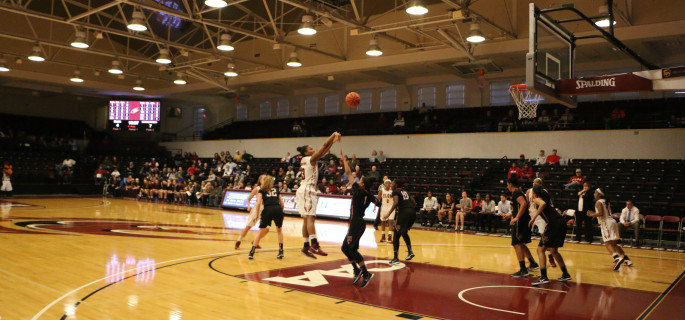 The Elon Women's Basketball team pulled out a last-minute win against College of Charleston on Sunday, Feb. 7, defeating the Cougars, 75-71. Senior Sam Coffer had the winning put-back with 36 seconds remaining in the game. With the win Elon moves to 14-8, 7-4.
Three Phoenix finished the game in double figures. Sophomore and Charleston native Jennifer Rhodes scored a career-high 21 points. Coffer finished with 19 points, a season high for the senior. And sophomore Lauren Brown added 14 points
Elon continued its hot streak from beyond the arc. The Phoenix shot 37 percent from deep (10-27) as well as 42 percent from the field (26-62).
The Cougars and Phoenix battled back-and-forth through much of the first half. CofC would go into halftime with a 39-36 lead. Elon went on a 10-2 run early on in the second half, but the Cougars would climb back and bring it to a one-point game. Both teams would continue to trade leads through the rest of the game. With Charleston leading 70-71, Coffer grabbed a rebound and layed it in to give Elon the lead. CofC's Christy Hewatt turned the ball over with 15 seconds left and fouled Essence Baucom, who hit both free throws to seal the deal from TD Arena
Up next: Elon will host UNC Wilmington on Thursday, Feb. 12 at 7 p.m. from Alumni Gym. The Seahawks defeated the Phoenix in Wilmington on Jan. 22, 76-68.