Five things to know about #ElonIce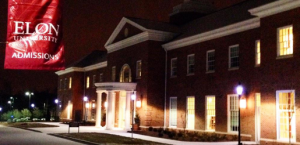 As freezing rain and ice continue to fall, Elon Local News will continue to cover the winter weather. Here are five things to know about the now trending #ElonIce:
Students continue to wait for updates from Dean of Students Smith Jackson, to determine whether or not classes will be cancelled tomorrow, Feb. 17. For now, the university is running on a 2-hour delay, with classes being held for one hour and 15 minutes long. You can find the schedule here.
While establishments in Burlington, N.C. are shutdown for the night, fast food favorite, Cookout, remains open until further notice.
 Stephen A. Smith and Skip Bayless, hosts of ESPN's First Take, will no longer be speaking with Elon students tomorrow afternoon in the School of Communications.
Alamance Burlington schools will not be open tomorrow, Feb. 17.
The National Weather Service has issued a Winter Storm Warning for the Town of Elon, until 9 a.m., tomorrow.
For continued coverage on #ElonIce, follow Elon Local News on social media.