Founder of civil rights museum reflects on movement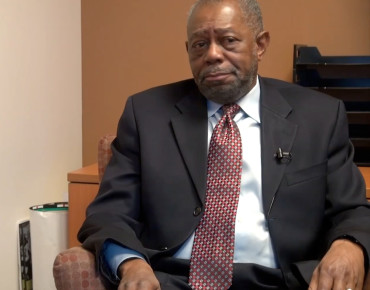 Fifty-five years ago, on Feb. 1, four students from North Carolina A&T State University sat down at the lunch counter at Woolworth's department store in Greensboro and refused to get up until they were served. This set off a chain reaction of sit-in movements throughout the country to challenge Jim Crow segregation.
The Woolworth's department store still stands in downtown Greensboro, but the building now houses the International Civil Rights Center and Museum. Founders Earl F. Jones and Melvin "Skip" Alston founded the museum five years ago to save the historic building and offer a place for visitors to learn about the past and how to make a better future.
"Museums are important reminders of where we've been and where we need to go," Jones said. "Whether it's the International Civil Rights museum and center here that speaks to not only Jim Crow segregation but slavery, speaks to the oppression and denigration of the human spirit."
Jones, a lifelong North Carolina resident, dedicated his life to the civil rights movement on his first day of college after being inspired by a speech from civil rights leader, Howard Fuller.
"I realized the type of injustices that plagued African-Americans throughout the country and I realized I learned about the horror, not just of Jim Crow segregation but of slavery, the lynchings," Jones said. "I became very impassioned and decided in college that I was gonna commit my life to whatever sacrifice, whether it meant economic, whether it meant my life or whatever to rectify the situation."
Jones decided to study law and planned to move to Atlanta or Washington D.C. after law school until the Ku Klux Klan killings in Greensboro motivated him to go to his first meeting for the National Association for the Advancement of Colored People.
"I was raising so much hell in the meeting that at the subsequent meeting Dr. George Simpkins who was president of the NAACP he said, 'Look Earl you come in here and raise all this saying all this talk, talk is cheap, I wanna ask you to serve as our legal counsel at our local chapter of the NAACP,'" he said.
As a lawyer for the Greensboro chapter of the NAACP, Jones fought against practices that were keeping black men and women from winning local elections and serving in local governments. His lawsuits made it possible for his colleague, Alston, to become the first African-American elected to the Guilford County Board of Commissioners, and Jones himself to be one of the first African-Americans to serve on the Greensboro City Council.
Now as founder of the International Civil Rights Center and Museum, Jones hopes that visitors see how far the movement has come and where it needs to go to ensure progress.
"I'm very hopeful and the international civil rights museum and institutions of this status and mission and purpose actually educate folk as to where we should be moving as a society here in America and where we should be moving worldwide," Jones said.