Late surge from Elon not enough to top UNCW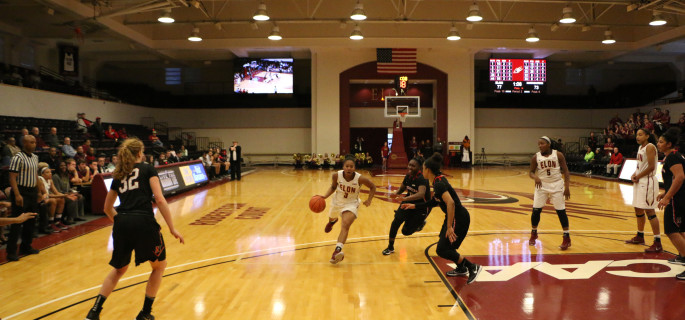 A last second surge from the Elon Women's Basketball was not enough as the Phoenix fell to UNCW 86-82 on Thursday night.
Elon trailed for much of the game, but was able to pull it within striking distance with moments to go. Things did not go the Phoenix's way as it dropped to 14-9 (7-5 CAA). UNCW improves to 9-14 (5-7 CAA). The Seahawks were 0-9 in road games coming into Thursday's matchup.
Elon started off strong, leading for more than half of the first half. The Phoenix led by as much as 9 points early in the first half. Elon ended the half leading 36-35.
UNCW would make a strong showing in the second half, scoring 51 points, and leading by as much as 13 points near the end of the game.
Elon had four players score in  double-digits, led by Malaya Johnson with 19 points. Close behind were Essence Baucom with 17, Sam Coffer with 16, and Lauren Brown with 13. The Phoenix shot 55% on FG attempts, and 61.9% from the free throw line. Elon encountered problems when shooting from the 3 point line, scoring on just 25% of their 12 attempts.
UNCW had two 20-point scorers, led by Naqaiyyah Teague with 24 points and Kelva Atkins with 20 points. Close behind were Ryan Flowers with 15 points and Brie Mobley with 13 points. UNCW shot 48.4% on FG attempts, 44.4% on 3pt attempts, and 81.5% on free throw attempts.
Elon would find themselves in foul trouble late in the game with Sam Coffer fouling out with just 6 seconds to play.
Elon struggled on defense and with rebounding, grabbing just 27 compared to UNCW's 40. Coach Charlotte Smith noted that the team needed to improve in that area, saying, "Defense and rebounding, those are the two things we have to focus on."
Elon was not helped by Shay Burnett's struggles on offense. She finished with 0 points with 17 minutes of game time. Burnett left the game in the middle of the first half and appeared to be icing her hand after being looked at by the trainers.
Elon will now prepare to take on Hofstra in a home matchup this Sunday at 1pm. Hofstra is currently tied at third place with Elon in CAA rankings at 14-9 (7-5 CAA). The two teams have not yet met in CAA play.