Class follows "North Star," attends 50th anniversary of Bloody Sunday march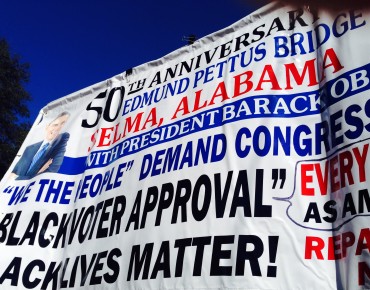 Over 25,000 people gathered in Selma, Ala. at the Edmund Pettus Bridge to commemorate the 50th Anniversary of the Bloody Sunday March. Five students and two teachers from Elon joined in on the remembrance. The Disarming Injustice: Non-violence and the Civil Rights Movement class attended the celebration to examine the role of Civil Rights leaders played during the movement and to address the issues the United States still faces today.
"It was awesome. It was overwhelming to me. It was beautiful to see the spirit of the crowds," Professor Frances Ward-Johnson said.
President Barack Obama started his speech at the base of the bridge to commemorate the Civil Rights Activists' journey. He later addressed the issues regarding race tensions that still exist today, specifically in law enforcement, social injustice, immigration, and voting rights, as well as diversity issues with sexual orientation.
"No matter what will be the test, God will take care of you," President Obama said in his address.
Obama continued to emphasize the importance of the men and women following their "North Star" by marching in 1965. They sought voting freedoms, which he encouraged people to remember today since it is one way the United States serves the people. "We," he stressed, is what our nation is founded on, as opposed to "I."
"It [Bloody Sunday] was not a clash of armies, but a clash of wills," President Obama said.
He encouraged his "fellow marchers" to keep fighting for the march today. He restated the familiar phrase of the movement: "We shall overcome."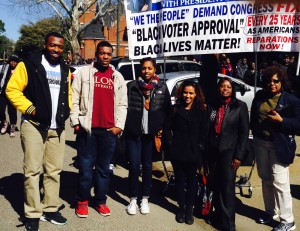 "We do expect equal opportunity, but we know we may not expect equal outcome," President Obama said.
He said that the journey is not over today.
"We are pioneers who change the unfamiliar," President Obama said.
The president spoke about social injustices that continue to occur within the United States of America specifically in law enforcement, immigration and voting rights. He emphasized the importance of voting rights legislation to end voting discrepancies such as voter ID, less voting and registration hours and less voting rights.
"We are strong enough to be self critical. And we must remake this nation to align it with our highest ideals," he said.
President Obama was joined by First Lady Michelle Obama as well as his two daughters, Malia and Sasha. Forty-third U.S. President, George W. Bush, and former First Lady , Laura Bush, also attended the event. One student was not only  in awe to see President Obama, but to hear him.
"[I was] very taken by everything because I was able to vote for Obama for his first term. The fact that I  got to see him in person was beyond amazing. Seeing him made me realize that change could happen," said sophomore Josephine Gardner.
For Ward-Johnson, this was her second time hearing President Obama speak, but it was her first time hearing John Lewis, a Civil Rights activist who participated in the Bloody Sunday march, tell his story in person.
"He [Lewis] said that we come to Selma to be recommitted, to be renewed, to be inspired. I felt inspired to be there. Selma is a celebration of the past and it renews the spirit for fighting Civil Rights moving forward," Ward-Johnson said.
On March 7, 1965, 600 Civil Rights activists marched 50 miles across the Edmund Pettus Bridge from Selma to Montgomery, Ala. They were not just fighting for justice, but also equality and voting rights. This march was for the Voting Rights Act of 1965, which was legislation passed under President Lyndon B. Johnson's administration. The act was passed nearly six months after the march.
The world today has changed. Obama and other civil rights activists acknowledged growth, but continued to voice their plea for change. Many leaders spoke on how change does not happen through one or a few humans, but rather the country as a whole. Until everyone unites on equality on all fronts, leaders do not feel that there will be much difference.
"Selma's about each of us, asking ourselves what we can do to make America better," concluded President Obama.