Phoenix hold on for win at Hofstra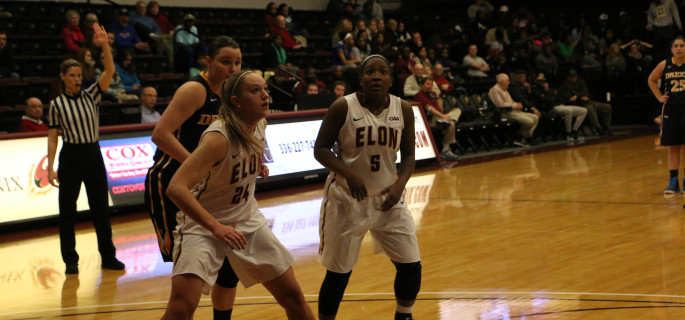 HEMPSTEAD, N.Y. - The Elon women's basketball team took home a 64-58 win over Hofstra on Sunday afternoon, in its final game away of the regular season.
The Phoenix jumped out to an early 16-2 lead, holding the Pride scoreless for a five-minute stretch. Layups by Shannen Cochraham and Lauren Brown helped keep Elon significantly ahead of Hofstra during the first half, at times by as much as 26 points.
Both the Phoenix and the Pride had a rough start to the second half, shooting a combined 6-of-34 from the field in the first eight minutes. With 11:49 to go, Elon had a 23-point advantage on Hofstra.
The Pride then went on a 22-2 run, cutting Elon's lead to three with just less than six minutes left in the game. A layup by Burnett helped put the Phoenix back on track, as they clung onto their 56-51 lead.
The Phoenix finished out the game converting 8-of-10. The Pride cut the lead to only four points with 23 seconds left, but the Phoenix held on for a 62-58 win.
Elon will play its final regular-season home game against Delaware on Wednesday, March 4 at 7 p.m. in Alumni Gym.