Burlington, N.C. businesses struggle to stay afloat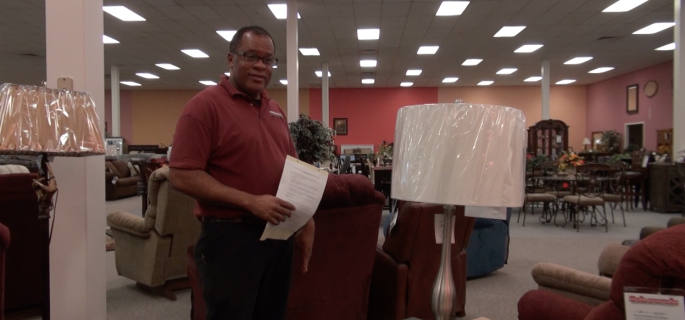 Fifteen minutes away from Elon's campus is a small shopping center off of North Church St. Cum Park Plaza is home to a number of businesses, but it also hosts a number of empty lots where stores and restaurants used to reside.
Vaughan McCraw is the store manager of Schewel Furniture Company, one of the businesses in the plaza. He moved to Burlington 10 years ago from South Boston, VA to work for the company that has existed in Burlington for 15 years. Immediately after moving, McCraw felt a connection to the location and the people there.
"People here are like people where I came from. They're down to Earth, everyday hardworking people. I like that," he said. "I can relate to them they can relate to me."
Though the empty lots and closing businesses around him imply a sense of foreboding, McCraw said business for Schewels has been good since they moved to Cum Park because they've established a good customer base.
"Schewels, it's been around for a long time and people that we cater to our customers, we're in their neighborhood," McCraw said. "This is where they're at."
That customer base, McCraw explained means middle-classed people who can benefit from the pricing and financing plans that Schewels offers.
"Schewels is a store that's not for everybody," he said. "It's not. I've been to some houses we deliver furniture to and they got the high ceilings and the 2 million dollar houses our furniture goes in it just don't look right. It's not for them."
With that customer base in mind, McCraw said Schewels' current location is ideal.
"People love it because see we do have customers which you rarely see today, a taxi cab will bring 'em or they have to get a friend, a neighbor to bring 'em but they choose our location because we're right here," he said. "Right in the neighborhood."
That neighborhood however is changing. Cum Park Plaza has been around since 1963, but looks very different now than it did 50 years ago. The shopping center was once booming with business but now there are few stores and a lot of empty spaces while the only two original businesses remaining are Food Lion and Roses.
On the western side of town closer to Elon, there's Alamance Crossing. This shopping center opened in 2007 and has been growing ever since, with three new businesses popping up or set to pop up this year. The shopping center also hosts a number of big name retailers such as Target, Best Buy and BJ's.
"A lot of people like new things, that's why the mall was popular at one time, now Alamance Crossing, Tanger Outlets," McCraw said. "[But we have] no need to send our customers from North Church Street to Alamance Crossing or to Tanger Outlets to shop with us, be right here and people love it."
Still, McCraw understands the shift economic opportunity too and why businesses might be moving west, though he said he plans to put.
"A lot of places are going ya know," he said. "But they have to find where there customer base is if it's not you have to look elsewhere. But with our customer base here in our business it's there. It's not dropping there's no need to look anywhere else."
McCraw said he felt the consequences of the economic shift a little bit, especially during the recession but he believes his store can ride it out.
"What you gotta do is just like the roller coaster you gotta hang on and enjoy the ride, because it will go back up," he said.