Railroad Crossings Unsafe and Illegal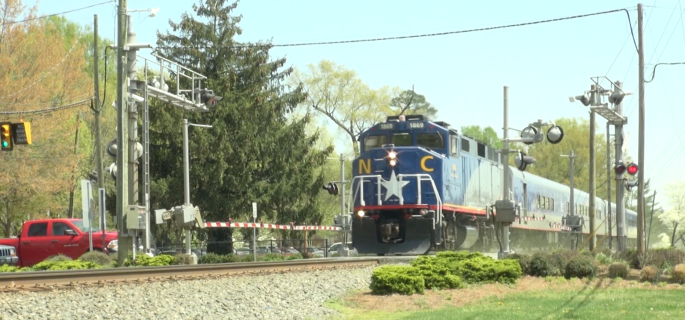 Unless you're hearing the whistle of the train as it passes through the railroad tracks running alongside Trollinger Avenue, it is easy to forget that the tracks are more than an obstacle between main campus and south campus. Even so, the tracks come with a number of laws and safety concerns that students don't often take into consideration.
First of all, according to North Carolina law, crossing the tracks anywhere other than a marked railroad crossing is illegal.
"Whenever a person is around the railroads, we want to make sure that they're safe," said Jeffrey Smythe, the Burlington Police Chief. "Pedestrians don't have any reason technically to be on the right of way of railroads. It's private property and so trespassing laws apply."
According to James Perry, assistant chief of the Elon Police, the same laws that apply to vehicles crossing the railroad tracks apply to pedestrians. To keep people safe, the law says they must cross at a designated crossing alongside cars. But Perry said people don't see these laws as necessary.
"I think that they don't think about it," he said. "They think if a train's coming [they'll] be able to see it. It's not a big deal [they] can go ahead and cross wherever [they] need to."
Many Elon students are guilty of this thinking as well.
In a recent video surveillance conducted by Elon Local News, 44 people crossed the tracks by West End Terrace — many crossed without looking.
Though it can be the quickest way to get from point A to point B, police say railroad trespassing can lead to serious, perhaps deadly, consequences.
An Amtrak train struck and killed two people walking on the tracks near Durham last week. In January, one person was stuck and killed in Burlington. According to Operation Lifesaver, a railroad safety organization, trains struck and killed 25 people in the state of North Carolina. Twenty of those people were on the tracks illegally.
The most dangerous trends police see are people crossing the tracks without paying attention.
"One of the fatalities that we have had recently was somebody walking down the railroad tracks with their earbuds in and they did not hear the train coming up behind them and was consequently struck and killed by the train," Perry said. "He never looked around or he never looked behind him and you could tell he never saw the train coming."
"[He was] killed instantly and that's a tragedy," Symthe said. "His family is looking for answers as to what happened and how that might have taken place and there's no amount of investigating that we can do that can give them those answers you know the public doesn't recognize that he's go no lawful reason to be where he's at."
A train has neither struck nor killed an Elon student since 2007, but both Smythe and Perry suggest the university add some kind of train safety education to its orientation programs, especially since many students come from areas where they did not live around railroad tracks.
"I think it should be made a point in the 101 class when students arrive here so that they can be made aware of the local laws and especially the railroad laws and just laws in general to keep them safe while they're students here," Perry said.
Overall, the police say the biggest problem that prevents pedestrians from crossing the tracks safely is that they often underestimate how dangerous the trains can be.
"The Amtrak that comes through here comes through sometimes at 69 miles per hour which is the speed limit for that train and you don't' realize how fast that is until you see the train coming," Perry said.