Students seek action during Sexual Assault Awareness Month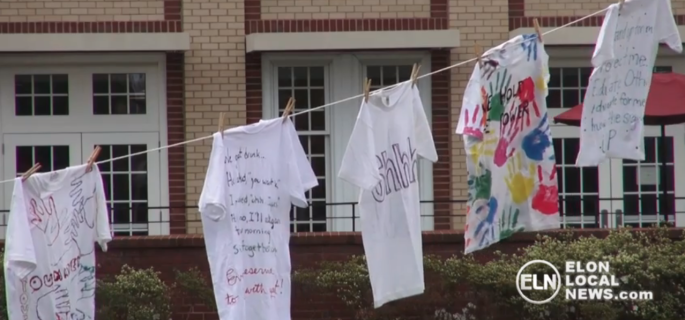 According to the National Sexual Violence Resource Center, April is Sexual Assault Awareness Month.
The NSVRC states the one in five women and one in sixteen men are sexually assaulted during college, even though a majority of both never report the assault.
Students and organizations around Elon's campus are taking part throughout the month to educate, raise money and awareness.
Here's a list of events happening around campus from April 13-20:
April 13-The Clothesline Project: Taking place at Speaker's Corner, The Clothesline Project is an opportunity for students to hang t-shirts with various messages and decorations to raise awareness for sexual assault and to support survivors.
April 14-Supporting Survivors Whiteboard Campaign: Taking place at College Coffee on Tuesday Morning, the campaign encourages people to write why they support survivors of sexual assault.
April 14-Banner Making for Take Back the Night: 4:30-8:30 p.m. taking place at Speaker's Corner, students are encouraged to come and help decorate a banner while will be used for the Take Back the Night march.
April 14-Hoops for Survivors: 6:00-8:00 p.m. taking place at the basketball court at the Oaks Apartments, students pay $5 to join a three person team. All proceeds go to the Survivor's Fund.
April 15: "Consent is…" Campaign: 11:00-2:00 p.m. Taking place in Moseley the SPARKS event is meant to inform students about consent.
April 16: Take Back the Night: 6:00 p.m. taking place at Speaker's Corner is a march to protest victim blaming. / 7:00 p.m. taking place in Whitley Auditorium is an event held where all members of the community are encouraged to come hear stories of sexual assault survivors.
April 20: Supporting Survivors 101 Workshop: Elon Faculty/Staff workshop
April 20: "The Hunting Ground" screening: The highly talked about documentary about sexual assault on campuses around the nation.
For more information on Support Survivor's Week check out the Facebook page.