"Chandelier" cover brings Elon a capella group into the spotlight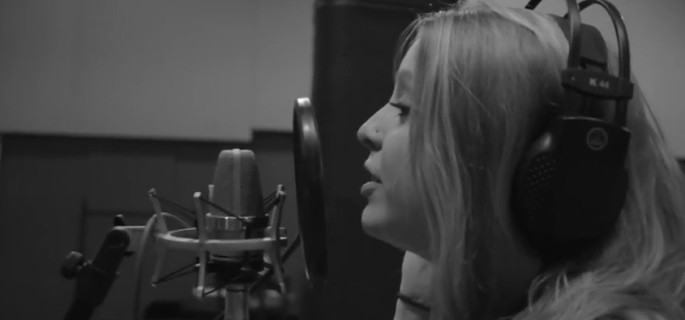 Correction May 30, 2015 10:20 a.m.: It was previously reported that Abby Franklin had spent four years at Elon. She actually transferred to Elon in her sophomore year.
"Unreal." That is how 2015 Elon graduate, Abby Franklin, describes the attention that Twisted Measure's cover of Sia's Chandelier has received. Having been picked up by BuzzFeed, USA Today, TIME, Teen Vogue and many more media outlets and breaking the iTunes top 50, Twisted Measure's rendition of Chandelier is putting Elon University on the map in a musical way.
Franklin was a member of Twisted Measure, one of Elon's co-ed a capella groups, after transferring to Elon in her sophomore year and is the soloist on this song. She says she is amazed by the way the song spread.
"What's amazing is how quickly everything happened," she said. "It went completely viral in less than 24 hours and then all of a sudden I'm sitting on my computer managing my social media accounts like a crazy person. What an honor to be affiliated with Twisted Measure and Elon in this way."
Although this outburst of attention from different media outlets came as a surprise to Franklin, she believes that there is a distinct cause for it.
"I think the key ingredient of the recognition comes in the element people continue to bring up in their comments on the video: Kyle's arrangement," Franklin said. Kyle Whittaker is a 2014 Elon graduate and another former member of Twisted Measure.
"[The arrangement]'s such a gorgeous blend of open chords and the solo part on top of that just sends the song to another place," Franklin said.
The recent coverage of Chandelier has brought recognition to Elon University and Twisted Measure. Through being covered by big name organizations and websites and then being shared and reposted on social media, Twisted Measure's cover of Chandelier is making its way onto the computer screens of people around the country and the world, some who may have never heard of Elon University before listening to this song.
Meanwhile, Franklin hopes that it can also impact her personally.
"I would love for the coverage of Chandelier to have an impact on my future," she said. "I graduated from Elon (less than a week ago, what?) with a degree in journalism but outside of writing, singing has always been this natural, comfortable thing for me. When that's the case for any skill, it's instinct to want to do something special with it. I can only hope singing stays on the table for me post-grad."
In the meantime though, Franklin says she and the rest of the Twisted Measure crew are basking in the attention received by their cover of Chandelier.