Elon graduate students teach a lesson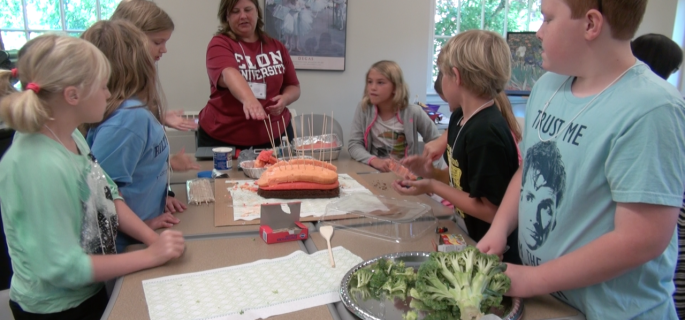 Even though it is summer, some are still taking the opportunity to learn on campus. Elon graduate students pursuing their master's in gifted education led the Flex Program, a week long camp for gifted kids in the community.
Glenda Crawford teaches master's level education classes at Elon and is the director of the Flex Program. She is grading her students based on the lesson plans made for the camp.
"It's important to have teachers trained or prepared to teach highly gifted students," Crawford said. "They need to know how to design curriculum that will challenge them, curriculum that is sophisticated, novel, that has projects within it."
Crawford said it is it's by challenging these students that they get the opportunity to grow.
"Gifted children have social, emotional and academic needs," Crawford said. "They need to be addressed through an enrichment learning environment and often they don't get that as intense in schools as we are creating this week."
Kids participating in the camp do a lot of hands on learning activities including creating restaurant menus, making food art and making videos.
"This is the type of curriculum they need," Crawford said. "They don't want to be sitting in a chair all day. They don't want worksheets. They need something that will challenge their minds and perk their interest and that's what we're trying to do here."
Crawford said her favorite part of the Flex Program is seeing the kids rise to the challenges they are given and also seeing her master students succeed in making those enriching lesson plans.
"[The kids] go home and talk about it with their parents. They talk all the way home in the cars," Crawford said. "I have had wonderful feedback from the parents."
The kids participating in the program aren't the only ones who say they've gained valuable lessons. Elon graduate student Terran Yohn said the Flex Program has helped her be a better teacher.
"It's helping me learn new tools and tricks and know how to work with this population of students." Yohn said. "All the things we've been learning in books, its nice to put those into practice."
Yohn received her undergraduate degree in education at UNC Greensboro and is currently in the process of receiving her master's in gifted education at Elon.
"I'm really excited, it'll be different and I'm excited for the challenges and it's just nice knowing the program prepared me." Yohn said.
Yohn said she wanted to be a teacher so she could give back. She said she understood how much a teacher can influence a child's life and wanted to be a part of that.
"I had some really good teachers and had some really bad ones and so the good teachers just made me want to be a teacher," Yohn said.
Both Yohn and Crawford want to continue working towards helping gifted kids succeed.
The Flex Program is an annual summer event and gifted students in the Alamance-Burlington area are open to resister.