Skrosky preaches efficiency at CAA Media Day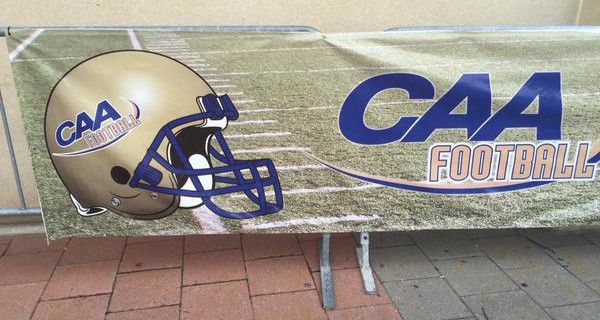 BALTIMORE, MD - For the second time in as many seasons, Elon football is projected to finish last in the Colonial Athletic Association as the league kicked off the 2015 season at M&T Bank Stadium.
After finishing the 2014 campaign 1-11 (0-8 CAA) the Phoenix is optimistic about the upcoming season.
On hand were Elon head coach Rich Skrosky, junior running back B.J. Bennett and redshirt-sophomore Chris Blair, who was the only Phoenix to be named to the 28-player preseason all-conference team.
"Its an amazing honor, but for me, I'm more of a team person." Blair said. "I don't focus on self accolades, I'd rather have a conference championship or [be voted] first in the preseason poll rather than preseason all conference."
"What makes Chris a special player is his determination and his competitive nature are second to none," Skrosky said about his standout defensive back. "He is not going to be outworked."
Though he's only entering his second season at Elon, Blair will have to be a leader for a team that Skrosky said could play as many as nine freshmen during the opening game.
"The biggest thing with me is I have to be more vocal," Blair said. "I do a great job of leading by example, but I have to push my teammates to where I want them to be and I want them to be on the same level that I am."
But one place Blair won't be able to help out is offense, where the Phoenix ranked among the CAA's worst in every major category, including dead last in rushing offense. After his season was cut short due to a forearm fracture, Bennett leads a corps of young backs hoping to lighten the load on an offense that lost its top two quarterbacks.
"We have a lot of threats running the ball, with me, [senior] Tracey [Coppedge], and the new freshman [Malcolm Summers] coming in, we can all make plays," Bennett said. "We're just ready for the opportunity."
Offensively, Elon hopes to remain on the field for longer stretches of time. The Phoenix converted only 27 percent (54-of-201) of its 3rd down attempts in 2014.
"The coaches and even the defense were like ya'll got to stay on the field," Bennett said. "We don't want quick three and outs, so we're staying on each other, holding each other accountable. If someone slacks, we're going to call them out for it. If we do what we did last year, we'll get the same results."
Skrosky stressed efficiency both in the run and pass games as key to igniting the offense.
"You score in two ways: big play element and being efficient," he said. "We didn't have those explosive plays last year… If you don't have those plays, [it] puts more pressure on you to be more efficient."
He said he also hopes to get on the board early, something Elon struggled to do with only 16 first quarter points the entire 2014 season.
"You always want to get off to a good start," Skrosky said. "It allows you to play differently and get up by a couple early on. What it does to your mindset and your confidence."
Skrosky will be putting his trust in a quarterback that has never played at the college level. A fierce quarterback competition is expected between redshirt freshman Connor Christiansen and true freshman Daniel Thompson when the team reports to camp on August 6.
"I think the fact that Daniel graduated high school early and joined us for the spring and the winter certainly lets it be a competitive situation," Skrosky said. "There's a timeline I'd like to have happen, but I heard somebody once say you don't want to rush to make a wrong decision".
But, Skrosky said no matter who he chooses as starting quarterback, he expects to hit rough patches.
"They're both competitive kids and they have talent," he said. "Either way, they're going to be a freshman and there are going to be growing pains."
So far in the summer the pair has impressed their veteran teammates.
"They've both embraced the competition and its bringing out the best in both of them," Blair said. "It's going to be fun to watch."
But even with a freshman under center and the low expectations, Blair and the rest of the team, has their eyes on a much bigger goal. "A conference championship."
Justin Biegel and Andrew Feather contributed to this article.