Tree planting honors Trent Stetler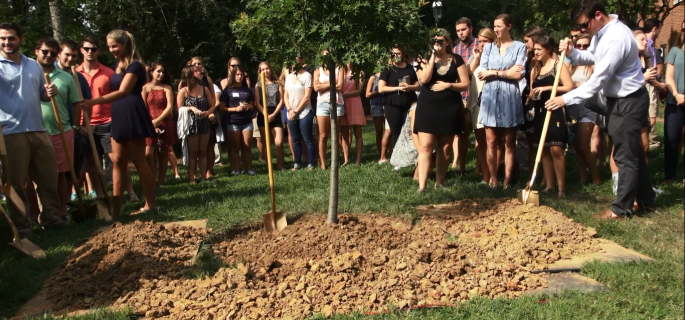 A crowd of students gathered outside Danieley K Saturday morning to celebrate the life of Trent Stetler.
Several friends and family told stories about Stetler, remembering him as a kind and reliable friend and son. To honor Stetler, a tree was planted outside of his freshman dorm. Once planted, those closest to him took turns shoveling dirt into the hole. After the speeches and tree ceremony were over anyone who wanted left a small note with Stetler's family.
Stetler was found dead by the Burlington Police in January and it is believed that he took his own life. Stetler was an Elon Junior from Havertown, Pennsylvania majoring in Economics and minoring in communications. He was a member of the Alpha Kappa Psi business fraternity and played Rugby on the club team.
Nick Cianciara, one of Stetler's friends, and Janet Fuller, the University Chaplin hosted the memorial. Cianciara started organizing the event in July with help from his friends and the university. They hope that the tree will serve as a memorial for one of their best friends.