Burlington Downtown Farmer's Market offers more than food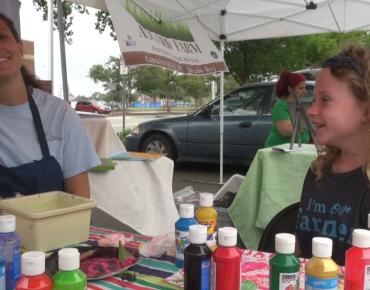 Every Saturday and Wednesday from April to October, farmers and customers at the Burlington Downtown Farmer's Market have the opportunity to see, smell and purchase some unexpected items and services, including: goat milk soap, five-minute massages, and marinade cream cheese spread.
The market takes place every week, rain or shine, at the corner of Spring and Front streets in downtown Burlington, N.C.
Saturday hours are from 8 a.m. to 12 p.m. and Wednesday from 3 p.m. to 6 p.m.
Market vendor and director for Club Express, a local art studio, Mike Toland, explained the market's importance as a crucial meeting point for the community.
"When you come to the market you're not just picking something off of a shelf and bringing it home and eating it, you're connecting with the person who's put that labor of love into growing that great produce for you."
The market serves as a key point of business for many vendors.
With the market open to all ages, it makes for quite the family affair.
"Everybody has their jobs they do, and it varies but it's a complete family thing," Kristi Thompson, Founder of T-5 Farms, said.
The Thompsons have been at the Burlington Market since its inaugural year selling natural fresh produce, eggs and meats.
Their seven-year-old daughter, Audrey, loves to help out around the table at the market as well as venture across the lot to Toland's booth. Each month Toland visits the market in order to promote her business and brings along a special craft.
This Saturday, for $3, kids had the opportunity to make pictures and paint by using local produce to print on as stamps and brushes.
"It was fun to use produce which is what most people think of when they come to the market. Thinking about fruits and vegetables and flowers so why not involve that in our art process," Toland said.
And with all this talk of veggies, has Audrey had a change of heart for eating her greens? Well, sorta.
"I like 'em a little better," Audrey Thompson said.
Next month Toland told ELN she will be doing a pumpkin craft to celebrate Halloween and the fall season.