Elon defense holds strong as Phoenix tops Towson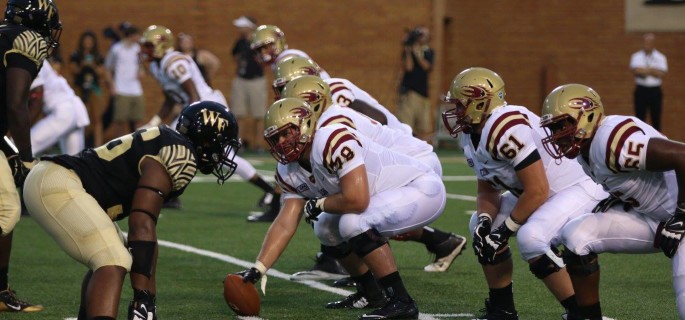 As the last 10 seconds ticked off the clock and chaos devoured the Elon University football team's 17-13 victory against Towson University, junior linebacker Corey Mitchell couldn't help himself.
"I almost couldn't move, I was shocked at what was really happening," Mitchell said. "I was seeing the clock in my peripheral [vision] — and I know you're not supposed to look at the clock and the scoreboard, but it's a natural human instinct just to look and be like, 'Oh my gosh, oh my gosh.' Then I see the zeroes across, and I just ran to the sideline."
The Phoenix, having escaped a wild finish, had earned its first Colonial Athletic Association (CAA) victory in football after a winless campaign a year ago.
Towson's redshirt senior quarterback Connor Frazier tried to spike the ball with 11 seconds left, but he momentarily lost his grip of the football, and Elon senior defensive lineman Rob Sullivan tackled him. From there, confusion reigned at Rhodes Stadium, with the Towson players scrambling to try to line up for a second try at a spike.
Frazier did get a snap off and spiked a second down play, but the clock ticked to 0:00, and the Elon sideline rushed the field. The referees converged together and ruled the game was over.
"I can't tell you how happy I am for everybody," said head coach Rich Skrosky. "Obviously, the players first and foremost, and everybody associated with the program. I keep saying, 'We're going to get better and better,' and today was a reflection of that."
Elon's defense locked in, forcing four turnovers and stopping Towson six times on fourth down. Redshirt freshman quarterback Connor Christiansen showered his teammates with praise after the game.
"I went up and I was hugging all of [the defense]," Christiansen said. "It's good when you know you have a really good defense behind you."
Towson (2-2, 0-1 CAA) quickly got on the board against Elon (2-2, 1-0 CAA), scoring two touchdowns in the first 10 minutes. Towson junior running back Darius Victor ran one in from four yards out, but he suffered an injury on the play and did not return.
His replacement, Towson freshman running back Shane Simpson, scored on a 49-yard run the next drive, as he bounced away from the pile and went in untouched from there. The ball was bobbled, and Elon made a tackle, keeping Towson at 13 points. The missed point came to impact the Tigers later.
After two straight pass interference penalties gave Elon first downs, Christiansen took a chance to the left sideline, trying to find freshman wide receiver Tereak McCray. Towson redshirt sophomore defensive back Alfonso Augustine mistimed his jump, and McCray was able to pull it down through the double coverage for a 35-yard touchdown.
The two halves each started with the team receiving the ball fumbling on its first play from scrimmage. When Elon gave it away to Towson in the first half, the Tigers could not turn it into points since Elon stopped them on fourth down for the first time.
But when Towson gave it to Elon at the Tiger's 26-yard line, Christiansen found McCray for a 21-yard completion, and sophomore running back Brandon Gentry ran it in from five yards out to give Elon a 14-13 lead.
Towson continued to go for it on fourth down in the third quarter, but Elon continued to stop the Tigers. Freshman cornerback Greg Liggs Jr, making his first start, made a tackle just in front of the first down marker for the third stop. Junior linebacker John Silas followed that up on the next drive with a sack on fourth down, Elon's only sack.
After the fourth stop on fourth down, Elon put together its final successful drive, marching inside the Towson 30-yard line. Freshman quarterback Matt Gallagher kicked the 45-yard field goal off the right post and in, pushing the Elon lead to 17-13.
Towson drove the ball down to the Elon 10-yard line on the next offensive drive, which carried over to the fourth quarter. On the second play of the last period, Frazier was stopped on fourth down, the fifth stop of the night for the Elon defense.
The Tigers tried another fourth down play with four minutes left, but Elon senior cornerback Julius Moore forced a fumble, and sophomore safety Chris Blair slid on the grass to recover.
Elon followed the drive with a three-and-out, leaving 2:08 for Towson to drive for a score without any timeouts left. The Tigers got a big run on fourth-and-1 from Frazier, who ran it 28 yards deep into Elon territory.
The Phoenix plays 3:30 p.m. Oct. 3 in Durham, New Hampshire, against No. 21 University of New Hampshire.