Burlington Carousel Festival has something new on tap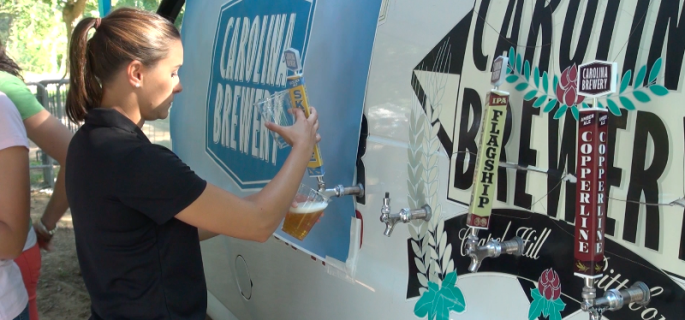 The Burlington Carousel Festival is an annual tradition in the Burlington City Park for the community to come together. The festival featured the usual carnival food, free concerts, and several fun activities. This year there was something new on tap.
Carolina Brewery served three divergent varieties of on tap beer in the Craft Beer Garden. This was the first time beer was allowed at the Carousel Festival. Guests who were 21 and over could stop in the designated areas and taste Carolina Brewery's seasonal drinks including Sky Blue, Flagship IPA, and Copperline Amber.
Jessy Reynolds, a Carolina Brewery Representative, said that bringing beer to the festival was challenging but worth the wait.
"We knew that being the first beer vendors out here we'd have to jump through a few hoops, and work with the town very closely in getting this arranged, but they were really easy to work with and it was fantastic and we're honored to be asked to be out here," Reynolds said.
With cups of beer in hand, festival goers were definitely enjoying this years change. James Gibson, a day tripper from Richmond, Virginia said he enjoyed the beer garden and felt that it was an acceptable addition because it did not interfere with other attendees' opportunity to enjoy the festival.
It hasn't been decided if beer will remain on the festival menu, however, Carolina Brewery beer can be found on tap at restaurants throughout the Carolinas. More information on the Burlington Carousel Festival and other upcoming local events can be found at www.btowneventsnc.com.