Elon releases 2015-2016 men's basketball schedule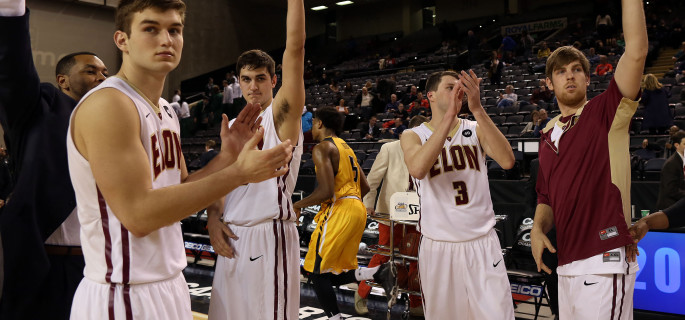 This morning Elon Athletics released the complete 2015-2016 men's basketball schedule.
Following an exhibition game against William Peace, the Phoenix will start the season on the road with games at Charlotte and Michigan. 
Elon opens its home schedule on November 18 against Division II Belmont Abbey.
Other key games include contests at national powers Syracuse and Duke, and a match up with former Southern Conference foe UNC Greensboro.
Elon opens its second season in Colonial Athletic Association play when it hosts Northeastern on December 31. The Phoenix wraps up the regular season on the road in three of its last four games, ending the year at Delaware. The CAA Tournament will run from March 4-7 in Baltimore Maryland.
Elon finished the 2014-15 season 15-18 (6-12 CAA).
| | | | |
| --- | --- | --- | --- |
| Date | Time | Opponent | Location |
| Nov. 5 | 7:00 pm | William Peace (exhibition) | Elon, N.C. |
| Nov. 13 | 8:30 pm | at Charlotte | Charlotte, N.C. |
| Nov. 16 | 7:00 pm | at Michigan# | Ann Arbor, Mich. |
| Nov. 18 | 7:00 pm | Belmont Abbey | Elon, N.C. |
| Nov. 21 | 7:00 pm | at Syracuse# | Syracuse, N.Y. |
| Nov. 26 | 2:00 pm | Mount St. Mary's# | Elon, N.C. |
| Nov. 27 | 7:00 pm | Furman/Texas A&M - Corpus Christi# | Elon, N.C. |
| Nov. 30 | 7:00 pm | Kennesaw State | Elon, N.C. |
| Dec. 4 | 7:00 pm | at Florida International | Miami, Fla. |
| Dec. 13 | 2:00 pm | Wesley | Elon, N.C. |
| Dec. 16 | 7:00 pm | Alabama State | Elon, N.C. |
| Dec. 19 | 1:00 pm | UNC Greensboro | Elon, N.C. |
| Dec. 21 | 7:00 pm | at UNC Asheville | Asheville, N.C. |
| Dec. 28 | 8:00 pm | at Duke | Durham, N.C. |
| Dec. 31 | 2:00 pm | Northeastern* | Elon, N.C. |
| Jan. 2 | 4:00 pm | Drexel* | Elon, N.C. |
| Jan. 7 | 7:00 pm | at James Madison* | Harrisonburg, Va. |
| Jan. 9 | 6:00 pm | Hofstra* | Elon, N.C. |
| Jan. 14 | 7:00 pm | UNC Wilmington* | Elon, N.C. |
| Jan. 16 | 4:00 pm | at College of Charleston* | Charleston, S.C. |
| Jan. 21 | 7:00 pm | at William and Mary* | Williamsburg, Va. |
| Jan. 23 | 7:00 pm | James Madison* | Elon, N.C. |
| Jan. 28 | 7:00 pm | at Hofstra* | Hempstead, N.Y. |
| Jan. 30 | 7:00 pm | at Northeastern* | Boston, Mass. |
| Feb. 4 | 7:00 pm | Delaware* | Elon, N.C. |
| Feb. 6 | 6:00 pm | Towson* | Elon, N.C. |
| Feb. 11 | 7:00 pm | at UNC Wilmington* | Wilmington, N.C. |
| Feb. 13 | 7:00 pm | College of Charleston* | Elon, N.C. |
| Feb. 18 | 7:00 pm | at Drexel* | Philadelphia, Pa. |
| Feb. 20 | 2:00 pm | at Towson* | Towson, Md. |
| Feb. 25 | 7:00 pm | William and Mary* | Elon, N.C. |
| Feb. 27 | 2:00 pm | at Delaware* | Newark, Del. |
| March 6-9 | TBD | CAA Championship | Baltimore, Md. |
* CAA game
# Battle 4 Atlantis