FEC data indicates lack of support for many presidential candidates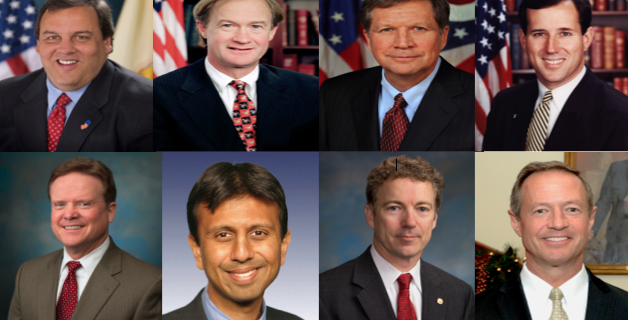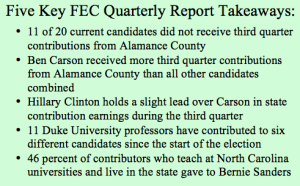 Alamance County has a long history of supporting Republican presidential candidates. According to David Leip's U.S. Election Atlas, Alamance County residents have not voted for a Democrat since Jimmy Carter received more votes than Rep. Gerald Ford in 1976.
But recent third quarter data released by the Federal Election Commission Friday revealed a lack of contributions for several Republicans.
Of the 20 candidates currently in the race, 11 did not receive contributions from July through September. Among the group were seven Republicans — including Chris Christie, Lindsey Graham, Bobby Jindal, John Kasich, George Pataki, Rand Paul and Rick Santorum.
Although the majority of candidates from both political parties did not receive third quarter contributions from Alamance County, a disproportionate amount of contributions went to Rep. Ben Carson.
Carson received 52.6 percent of the county's contributions while the next closest candidate, Dem. Bernie Sanders, received just 8.24 percent.
But at the state level, Dem. Hillary Clinton had a slight lead over Carson in third quarter contributions.
Clinton ranked first with $576,721.21 (30.3 percent) in North Carolina contributions while Carson ranked second with $471,597.64 (24.8 percent).
FEC data indicated a significant decline in North Carolinian financial support after Clinton and Carson. Jeb Bush and Ted Cruz were the only other active candidates to reach the six-digit plateau. Bush and Cruz secured 11.6 percent and 6.1 percent of the total state contributions, respectively.
Each of the remaining 16 presidential candidates received less than five percent of campaign contributions. Nine of those candidates received less than one percent.
Other state-level trends emerged after examining the FEC data.
More than 8,000 contributions from North Carolina residents have been made since the start of the election with the first contribution occurring Sept. 2, 2014. But only 36 individuals identified as teachers or professors at the college level.
After running searches on each of the 36 people, 24 of them currently teach at North Carolina colleges or universities. The institution with the greatest number of contributors through September was Duke University.
Duke ranked first with 11 contributors while the University of North Carolina at Chapel Hill ranked second with three contributors.
Other institutions with professors providing financial support to candidates included High Point University (2), Appalachian State University (1), East Carolina University (1), North Carolina Agricultural and Technical State University (1), University of North Carolina at Asheville (1), University of North Carolina at Charlotte (1), University of North Carolina at Pembroke (1), University of North Carolina School of the Arts (1), and University of North Carolina at Wilmington (1). For a full map view, click here.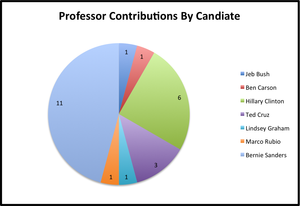 Seventeen of the 24 active North Carolina professors contributed to Democrats. Sanders received contributions from 11 professors while Clinton received contributions from six professors. Cruz came in third with three and Bush, Carson, Graham and Rubio tied for fourth with one professor each.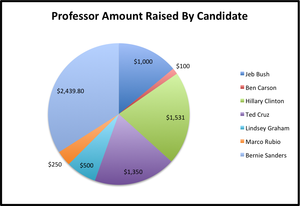 Professors provided a total of $7,170.80 to seven different candidates. Sanders got 34 percent of that total while Clinton got 21.4 percent. Cruz and Bush led on the Republican side with 18.8 percent and 13.9 percent, respectively. Graham, Rubio and Carson received the fewest amount of money.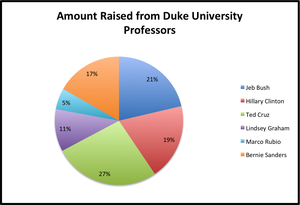 While Sanders received a majority of contributions from active North Carolina college instructors, there was significant division of support from the 11 Duke professors.
Clinton and Sanders tied for first in total number of Duke contributors with three. But they ranked third and fourth in money raised.
To see all of the 8,399 North Carolina contributions made thus far into the election please refer to the North Carolina Donors Excel Spreadsheet.