JMU spoils Elon Homecoming in big win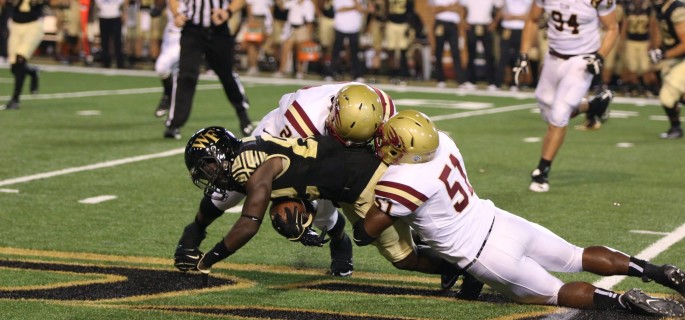 On a perfect fall Saturday to host Homecoming and play some football, James Madison rolled over Elon 51-0 in a Colonial Athletic Association contest.
"We did not come out and execute," said senior defensive lineman Rob Sullivan. "They outplayed us in every phase of the game. Just a bad game all around."
The scoreless affair is Elon's first shutout against a Football Championship Subdivision (FCS) opponent in nearly 10 years, since The Citadel shut out Elon 21-0 Nov. 12, 2005. It's only the second time Elon has been shut out in Rhodes Stadium (Oct. 23, 2004 10-0 loss to Furman University).
Head coach Rich Skrosky is not as concerned with the shutout, though, as he focuses on improving the team over putting points on the board in a blowout.
"You've got to take your ego aside from it, and build your team and your program," Skrosky said. "That's what goes into that decision. 'Can we execute in the red zone? Can we execute on the goal line?' 51-3, 51-6, you're losing bad either way.
"I want to play better. I want us to play to our potential every day."
James Madison came into Saturday as the top-ranked offense in all of the FCS, averaging 614.5 yards per game. The Dukes finished the game with 604 yards of offense, which Skrosky said was around the season average.
The Dukes got the scoring going right away, as redshirt sophomore running back Cardon Johnson burst through the Elon defense for an 80-yard touchdown run. He also added a one-yard touchdown run late in the first half.
Elon only had one good opportunity to score in the first half, when the Phoenix drove 53 yards on nine plays. From the Dukes' 26-yard line, freshman quarterback Daniel Thompson tried to find freshman wide receiver Corey Joyner through triple coverage. Instead, Dukes redshirt junior cornerback Taylor Reynolds jumped in front, intercepting Thompson's pass in the end zone.
"I thought it was man-to-man," Thompson said. "The corner ended up bailing and falling under it. I was bad with my eyes, honestly. It was a big thing with me all day — I had poor eyes and poor decision-making."
Junior running back Khalid Abdullah scored two rushing touchdowns himself in the first half, with rushes of four and two yards for scores.
Senior quarterback Vad Lee threw two touchdowns passes on the afternoon, the first a seven-yard pass to sophomore tight end Jonathan Kloosterman in the second quarter. Lee also connected with sophomore wide receiver John Miller for a 27-yard score.
The Dukes put in the backups in the fourth quarter, but even those players shined. Freshman running back Trai Sharp, playing near his home of Carrboro, North Carolina, took his first collegiate carry 64 yards to the Elon 4. He finished off the drive with a one-yard touchdown run to push the Dukes over the half-century mark.
NOTES: Sullivan recorded his sixth sack of the night, moving him to a third-place tie for the single-season FCS sack record. Sullivan has nine career sacks, which puts him sixth on Elon's all-time FCS list…Junior tight end Zach Duprey set career-highs in catches (three) and receiving yards (54)…The Homecoming afternoon loss drops the Phoenix to 6-9 in Homecoming games…The Homecoming king and queen, announced during the third quarter, are Tyler Riccio and Alex Jakaitis, both representing Sigma Sigma Sigma.