Local museum brings civil rights back to life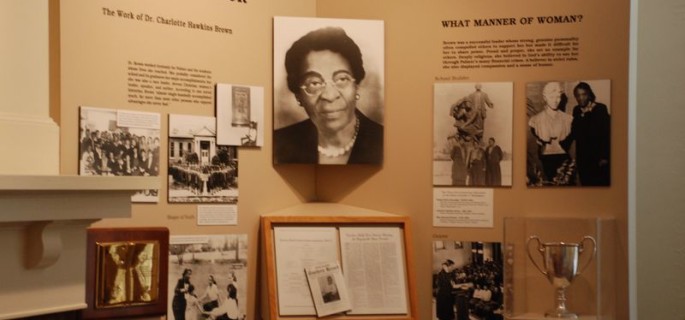 GIBSONVILLE- History came alive this weekend at the Charlotte Hawkins Brown Museum, where a new exhibit displays how America's past civil rights issues resonate in the modern day—and how they directly affect us.
The museum is dedicated to Charlotte Hawkins Brown, who was known for her work as an educator of an all black school. She taught African Americans to live up to white standards in hopes that, by conforming to these ideals and establishing profound knowledge within her students, would lead to more civil liberties for them.
"It was an amazing school," Brandie Ragghianti, creator of the exhibit, said. "A lot of these students went on to really good state universities. Some went on to segregate the colleges they went to."
In the 1950s, different kinds of voter intimidation were in place in the state, such as literacy tests and violence. Brown tried to prevent this through education.
"She demanded real, kind of Victorian almost, middle-class norms for every student in her school," Charles Irons, history professor at Elon University, said. "Once a certain mass of African Americans embodied those values, then they would be able to more effectively press for full voting rights of citizenship."
Despite Brown's notoriety for her commitment to educating African Americans, few people make the connection between her teaching and civil rights activism.
"She was very involved in the early civil rights movement…and that involvement really influenced her students." Ragghianti said.
She explained that the exhibit was inspired by the public's lack of knowledge on the events leading up to the civil rights era. The goal of the exhibit is to not only recognize the historical figures during the civil rights period, but to shed light on the individuals who made it possible—people like Dr. Brown.
"I want students to understand that the civil rights movement didn't just happen," she said. "[There were people] who laid the groundwork for the events that transpired in the 1950s and 1960s."
While the exhibit is open to the public, Ragghianti said she tailored it towards college students, in an attempt to follow in Dr. Brown's footsteps and inspire them to learn. This is because there is a prevalent correlation between the Voting Rights Act of 1965 and modern day, yet many students aren't aware of how it is personally affecting them.
Jim Bessett, professor of history at Elon University, agreed that much of what Dr. Brown worked for is still very apparent in today's culture.
"The supreme court very recently gutted most of the voting rights act," he said. "That's what's happening right now. Voter ID laws, restricting early voting, the N.C. General Assembly has done in the last [couple of] years, I am discouraged to see the government retreating from something that should one of its' core obligations to protect."
According to Ragghianti, the Voting Rights Act of 1965 was not intended to create new rights for minorities and people of color but rather, it was set in place in order to reinforce these laws.
"The purpose of the Voting Rights Act was to enforce, the rights they already had," Ragghianti said.
The 15th Amendment states that blacks have the right to vote, but states used poll taxes, violence, and literacy tests to prevent blacks from voting for almost a century. Eventually, the riots in Selma, Alabama, also known as "Bloody Sunday," led to the passing of the Voting Rights Act. Ragghianti said that the Selma riots were the "catalyst" for the act.
The importance of the Voting Rights Act and why it matters in modern day society can be understood after a visit to the exhibit. There is a timeline of information from the beginnings of Dr. Brown's life to the end of the civil rights era, allowing for an appreciation of her societal contributions. The site is close to campus and free of cost, making it accessible to Elon college students. Their next event is in early November, which will consist of a discussion about prison labor in the 1900's and the implications. The museum attempts to reach out to college students by staying tech-savvy and posting about events.
"Facebook is the best place to find out about these events," Ragghianti said. "We're just 'Charlotte Hawkins Brown Museum.' They can also keep an eye on things such as local newspaper calendars."
The exhibit not only creates a glimpse back into an important time for blacks in our country, but also creates a bond between history from years ago and modern-day college students. Many are not aware about the revision to the act, or of the 15th Amendment itself. The museum attempts to change this by reaching out to the student community and creates easily accessible exhibits that intrigue young students. By creating the exhibit on Dr. Brown's civil rights activism, it provides new knowledge of the work that many unrecognized people put in to make the civil rights movement happen. The exhibit depicts the reasoning and integrity behind the act, and makes us question why we are attempting to change it in 2015.
"We're trying to lay some groundwork so that people see how Dr. Brown's work connects to the 1960's and today," Rigghianti said.