Preparing for Hurricane Joaquin
Hurricane Joaquin is expected to hit the Elon area this weekend, with the heaviest rain fall on Sunday night.
According to the National Weather Service, there is a Flash Flood Watch from today, October 1 from 8:00 p.m. until Sunday October 4 at 8:00 p.m. Heavy rainfall and strong winds are expected, as well as some predicted flooding.
In a detailed forecast from the National Weather Service, between tonight and tomorrow the Elon area should be expecting rain showers that could be heavy at times, with a temperature near 57 degrees fahrenheit. The winds are coming from the North around 16 mph, with gusts as high as 29 mph. The chance of precipitation is 100%, so expect rain. It's also possible for new precipitation amounts between one and two inches.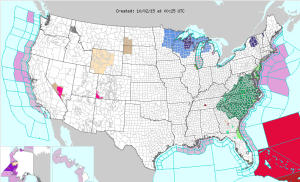 According to an email sent earlier today by Dean of Students Smith Jackson, the Elon area is expected to get up to seven inches in heavy rainfall. Jackson went on to explain that the university is preparing for the storm, and lists some steps to prepare yourself for Hurricane Joaquin.
First, Dr. Jackson said, to prepare for a power outage. Make sure to keep your devices charged, and keep a flashlight nearby in case of unexpected power outages.
Second, he said to sign up for E-Alert, Elon's emergency text message system. The service will send notifications to your cell phone from Campus Safety and Police.
Finally, he said to download Live Safe, Elon's Campus Safety and Police App for mobile phones. On the app you can contact them from any location.
In case of severe weather, Dr. Jackson recommends staying away from windows. He says that falling limbs and downed trees are likely. Refrain from driving if you can, and make sure someone know's where you are at all times.
He said to always report unsafe conditions to Campus Safety and Police via LiveSafe or by calling (336.278.5555) or by calling 911.
If there is inclement weather, Moseley Student Center and Belk Library will be open and staffed 24 hours a day. Elon will also have staff and supplies from Dining Services, Campus Recreation, and both the library and student center according to Dr. Jackson.
In his email, Dr. Jackson says he expects classes to continue on a regular schedule for Friday and Monday.