Elon men's hoops wins home opener against Belmont Abbey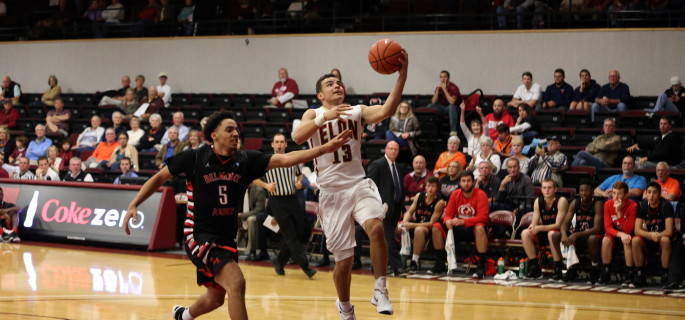 Shots came early and often for both sides on Wednesday night, as Elon men's basketball and Belmont Abbey squared off in Alumni Gym, where Elon beat the visitors 84-57. The Crusaders, of the Division II Conference Carolinas, were strong early, but wavered in the second half, as Elon went on a 21-0 run after returning from the break to win its home opener.
Belmont Abbey gave the Phoenix a brief scare early in the second frame, bringing Elon's lead to within one, at 42-41. Something clicked at that point for the Phoenix, cueing the 21-point scoring run, which featured four three-pointers, including a pair from freshman Steven Santa Ana.
Three out of four of Elon's top scorers were members of the freshman class, leaving head coach Matt Matheny optimistic about the future. "We're really going to rely on first and second year players this year," he said following the game.
With just over four minutes remaining in the second half, Elon's junior forward Christian Hairston punctuated his team's second half dominance, finishing an alley-oop with an emphatic dunk to give the Phoenix a 78-50 lead.
Elon's senior guard Tanner Samson was the star of the first half. He made his presence felt in the game's opening minutes, scoring fifteen of his team's first twenty points. He finished the day with eighteen total.
Samson attributed the team's second-half surge to strong defense, saying, "once we started getting stops, it led to more transition buckets, which led to us getting more momentum and more energy."
The Crusaders' Drexler Clark answered the call for his side, dropping fifteen points in the first half, going 3-4 from beyond the arc. He led his team in scoring through to the end of the game, ending with fifteen total. Ray Chen and Kendall Ratliff tied for Belmont Abbey's second-highest scoring total, with nine apiece.
Wednesday night's contest was the first game back in Alumni Gym for the Phoenix after returning from Ann Arbor, Michigan, where Elon fell 88-68 to the No. 24 Michigan Wolverines.
The road loss didn't seem to shake Elon, though, as it looked confident on Wednesday, shooting 48% from the field. The next game for Elon will be  another non-conference contest, as the Phoenix travel north to take on the Atlantic Coast Conference's Syracuse Orange in the Carrier Dome on Saturday night.
Even with a formidable opponent on the radar, Matheny is focused on the near future, emphasizing that "we need to do everything we can to get better tomorrow."