Hoverboards capitalize on Elon market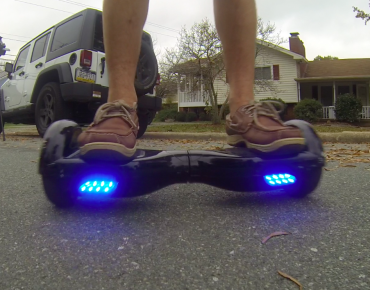 You can lock up your bike because there's a new way to get around campus.
Meet the hoverboard. It sounds like something out of Back to the Future but this two-wheeled mini Segway device has a gyroscope in the center that allows users to easily balance and maneuver the device.
For Elon Junior Ben Kleiman the device has proven to be both fun and useful.
"I timed it one time and it took me seven minutes to walk from the business lot to McMichael and it only took me two and a half minutes to get from there to McMichael on the scooter board," Kleiman said. "So it's pretty convenient, especially when you're late like me all the time."
The device first gained popularity when stars like Justin Bieber and Wiz Khalifa were photographed riding them. Kleiman said Elon's own community proves the market for these devices is growing.
"I knew of like two or three people who had this on campus when it started and now there's 50 people who have it."
Elon women's basketball captain Lauren Brown was one of the first students to purchase the device. She calls her hoverboard the "swagway." Still, her "swagway" hasn't been getting much use recently because of a rule her coach put in place.
"She doesn't want us to get injured on the boards and she banned them for the rest of the season, so as of now I'm not using it but I look forward to March to when I can get back on it."
You can't ride these devices everywhere.
So we did some research on them and they are considered a coaster which means they are allowed to be on the sidewalks," Elon police officer Lyle Anibal said. "They're not allowed to be on the city streets unless you cross on the crosswalk."