Men's Soccer earns shared CAA title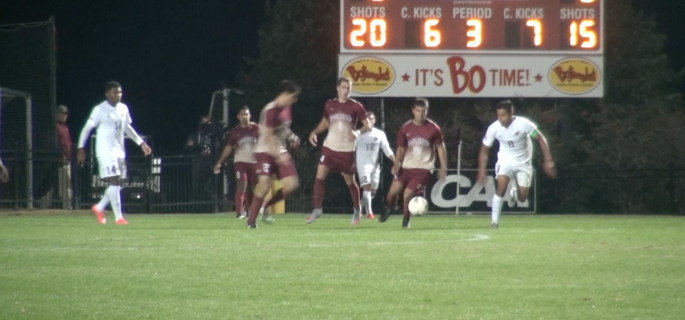 This past Saturday night, Elon Men's Soccer hosted the College of Charleston on Rudd field for the team's annual senior night, but little did they know it would be more special than they imagined.
As the game was tied at zero, before heading into an extra time period with COFC, the team found out that Colonial Athletic Association leader Hofstra had lost and that they were playing for a share of the conference championship.
"There's obviously a lot of different scenarios riding on the game but it was just really just trying to take the pressure off the players, try to just get them to play the way we want to play and execute the game plan we had," Soccer Coach Chris Little said. "That's easier said then done when there's a lot of pressure on them."
The phoenix dominated for most of the game, but just couldn't seem to find the back of the net, which was a trend that continued into the overtime period. Although, right when it seemed the match would end in a tie, Elon struck gold with just over a minute left in the game.
There was a cross into the box from senior James Brace to senior Nathan Diehl, who headed it home to send the team and the crowd into frenzy.
"There was a lot of frustration in the atmosphere. We weren't putting in shots, but in the end our grit and our determination and our motivation to win really carried us through," Diehl said.
Diehl's goal gave Elon the one to nothing win and a share of the CAA title with Hofstra. While there was a perfect ending to senior night, the team still has goals to accomplish.