United States Conference of Mayors calls on candidates to focus on Urban issues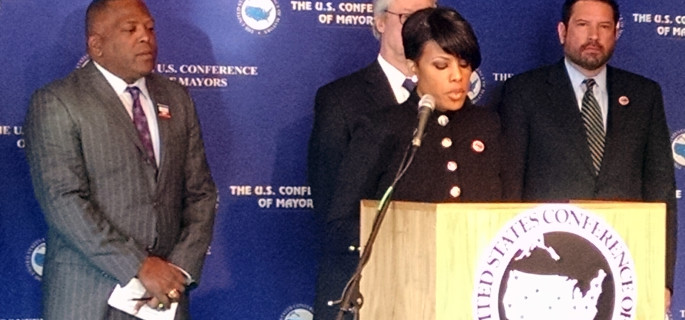 DES MOINES — In the hours before "The Iowa Brown and Black Forum," a minority focused forum featuring the three major Democratic presidential candidates, the United States Conference of Mayors (USCM) held a press conference where it said urban issues are American issues.
"The significant majority of Americans live in cities and metropolitan economies as well as the fact that the vast majority of our gross domestic product comes from those cities," Columbia, South Carolina Mayor Stephen Benjamin said.
Baltimore Mayor and USCM President Stephanie Rawlings-Blake, Benjamin, Santa Fe Mayor Javier Gonzales, Des Moines Mayor Frank Cownie and USCM CEO and Executive Director Tom Cochran all spoke at the event.
"We represent all people and we want to hear real reasons for real problems and we want to hear candidates address things that really are meaningful to all the people in this country," Cownie said.
One of the key issues discussed was the development of urban infrastructure.
"The federal government must invest in our D-plus rated infrastructure," Rawlings-Blake said. "The simple fact is that cities have growing needs and those needs have to be addressed."
According to Rawlings-Blake, in order to build up infrastructure, the federal government needs to collaborate with those who lead its cities.
"We need the president to be our partner and work in concert with us so that we can pave our streets, build more affordable housing and reform our police departments and create good-paying jobs so that the people we serve can support themselves and their families," she said.
Gonzales expanded on that idea, saying that many minorities in urban communities see their futures behind bars rather than in the workforce.
"It's about making sure every individual that lives in our communities have access to the American dream, Gonzales said. "But for too long we've seen too many people who have been part of a widening gap when it comes to income inequality, who have seen, especially in minority communities, that there have been these pathways more into the juvenile justice system instead of into good positive careers."
To cap the event off, the USMC called on presidential candidates to avoid partisan politics and "look for real solutions to the real problems that everyday Americans face."