Hillary Clinton wins big in South Carolina primary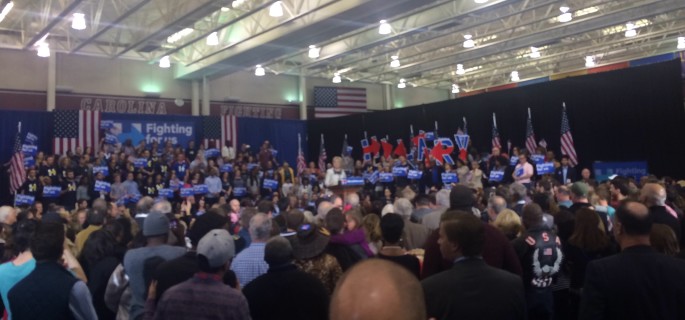 Just days before Super Tuesday, South Carolina primary voters made a loud statement on Saturday by voting former Secretary of State Hillary Clinton as their nominee for the White House.
Clinton swept the Palmetto State. Fifty-three delegates were up for grabs in Saturday night as hundreds of thousands of voters went to the polls.
According to the Associated Press, Clinton won 73.5 percent of the vote with Democratic rival Bernie Sanders trailing behind with only 25 percent. Clinton received 39 delegates while Sanders earned 14.
The eventual Democratic nominee needs a simple majority, or a little over half of the total amount of delegates. The Democrats have 3,253 total delegates. Clinton needs 1,626 delegates to clinch the nomination and, with a strong win in South Carolina, she now has 544.
Polls closed across the state at 7 p.m. It didn't take long before Clinton was announced as the projected winner. According to the New York Times, Clinton won all 46 counties in South Carolina.
Clinton started the day campaigning in Alabama and then returned to South Carolina to speak at a campaign event in the state's capital of Columbia at the University of South Carolina.
The event brought together a diverse crowd in age, gender and race, cheering, "I'm with her." With members of the crowd waving campaign signs and American flags, Clinton thanked her supporters for their help to make this win possible and to touch on the many issues of her campaign.
"We are not a one issue country," she said.
Clinton discussed systematic racism, equal pay for women, Wall Street corruption, student debt, and touted her promise to continue the work of outgoing president Barack Obama.
"We don't need to build up walls, we need to break down barriers," she said.
This win was an important one for the former Secretary of State. According to an ABC News exit poll, black voters accounted for 61 percent of total Democratic primary voters. This total surpasses the previous record of 55 percent in 2008, the same year then-senator Barack Obama swept South Carolina, defeating Hillary Clinton.
This is also Clinton's first win with a clear majority ahead of opponent Bernie Sanders. Sanders was last in the Palmetto State on Friday after multiple polls predicted Clinton to win the state by a large majority. He spent the day campaigning in Texas and Minnesota. Sanders conceded to Clinton in a statement, but noted his campaign was far from over.
March will be a crucial month for the two Democratic candidates. Races for more than half of the total delegates will be held this month. It all begins with Super Tuesday on March 1. Twelve states and one territory will be holding elections. They are Alabama, Alaska, Arkansas, Colorado, Georgia, Massachusetts, Minnesota, Oklahoma, Tennessee, Texas, Vermont, Virginia, and American Samoa.
Following her win in South Carolina, Clinton will travel to Virginia Sunday for a campaign event.
Follow Elon Local News for continuing coverage of the 2016 election.
Meredith Stutz and Elizabeth Bilka contributed to this article.